"Our approach to designing an Unmanned Surface Vessel for things like water quality checking is to keep it simple," said Greg Atkinson of Eco Marine Power. "You can go off on a tangent and make everything sci-fi – and you could spend a lifetime developing it."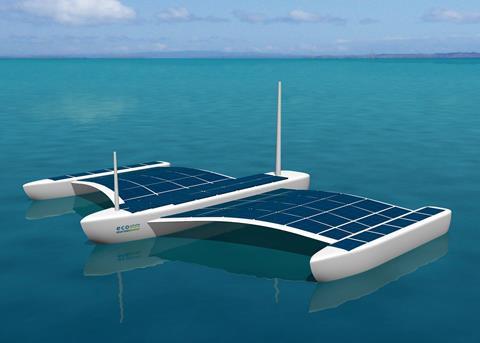 With impractical results. While in the past 'unmanned' vessel design has been synonymous with blue-sky thinking, the reality is uncovering a very different picture: "USVs are really good for mundane tasks ... like pollution detection," he explained. And these vessels can be tailored to answer 21st Century concerns: "Since these jobs don't need the USV to move particularly fast, there's potential input from renewable energy, allowing it to carry on cruising round the port on a pre-patterned programme for days on end."
So, EMP's Aquarius will be a 5m, triple-hull USV drawing just 1m of water below and 1.5m airdraft, making it able to negotiate both shallow areas and urban waterways with their characteristically low bridges - navigation will be via GPS or 'visually' via onboard cameras. As well as a 'plug in' recharging point it will have wrap-around, flexible solar panels, which could be combined along with wind input (an option under consideration), to charge the onboard battery bank.
The bank driving the pod-type propulsion isn't, surprisingly, a lithium ion array but a set of lead acid batteries in the region of 10 to 20kWp. Although li-ion was originally considered he explained: "One of the reasons we are using lead acid, at least at the moment, is because they are so easy to work with, you don't need an electronics battery management pack, they can take a fair bit of damage without going into thermal runaway, plus they are air transportable." And of course, the generally low power cruising will mean that the cells stay inside lead-acid chemistry's sweet spot, a state of charge between 40% and 90% of total capacity. While lead acid batteries are doubtless bulkier this USV isn't cramped like a typical AUV, having enough room in its 8m beam for enough power to push the craft at 6 knots.
But these USVs won't be attractive unless they are also within the budget of most ports. "There's a lot of space-age kit onboard but this is an industrial beast, it needs to be a reasonable alternative to present, manned operations," said Mr Atkinson.
This hits on a practical concern – the USV also needs to be cheap enough to be replaceable: while the build will be light and robust due to its composite and alloy structure and clever programming can put some avoidance strategies in place "there's no guarantees that one of these USVs won't be wiped out by a large bulk carrier that's not paying attention... and if that happens, you don't want a broken USV to break the bank at the same time," he added.
Therefore the development has to jump over the expensive 'prototype' stage as quickly as possible, and to do this EMP is looking to leverage its knowhow.
Mr Atkinson explained that although one might assume there's an unbridgeable gulf between a 5m USV and a 200m eco-cruise ship, some of the systems may be supported by similar technology: for example EMP's photovoltaic-wind EnergySail could find a home on both the USV and a cruise vessel - while there's an obvious change in scale, both versions share many of the same characteristics: importantly, development in one area could prove very useful for the other.
Likewise, EMP and KEI Systems have spent the last couple of years developing a common platform around a KEI 3240 data logger heart that can be tailored for a number of different applications.
It's much, much more than an 'information gatherer' explained Mr Atkinson: theresulting system can be configured to switch electronic equipment on or off – whether this is drive, video, sniffers, infrared cameras or a whole host of other automatic processes including sending reports or alarms back to base. In short, the vessel can respond flexibly to conditions.
It's useful that there have been a number of 'crossover' developments, originally pushed by very different concerns: "The piracy issue has created a big leap forward in infrared technology," explained Mr Atkinson, while other very sophisticated sensors have been developed for everything from military applications to space research:"You don't need to go reinventing the wheel with these things...and frankly it's better if 60% or 70% of any new project can build on mature, proven technology."
By Stevie Knight