Caterpillar has introduced upgrade kits for selected engines from its range of marine diesels that will bring the engines up to modern emission standards and improve efficiency writes Dag Pike.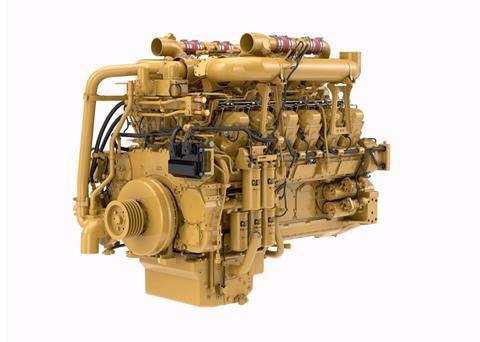 With the Cat Emissions Upgrade Kits for select marine 3500 engines, the engines can be converted from EPA Tier 1 and Tier 2 equivalent engines to stay compliant with current regulations. With a Cat Performance Upgrade Kit which is also available for selected marine 3500 engines the engine's performance can be upgraded in line with current standards.
The performance upgrade kits include proven system parts to convert from a mechanical to electronic injection control system, and this is claimed to make fuel savings of 4% and in some cases of refit, fuel savings have totalled more than 9%. The performance upgrade kits also improve load acceptance and acceleration while reducing vibration and noise. They also improve the diagnostic and display capability with live messages and alarms. The turbo charger is also optimised for engine efficiency. Caterpillar claims that it is possible to get a return on the investment of fitting these kits in less than 9000 hours of running mainly by the improved fuel consumption.
Both of these upgrade kits can be fitted to the engines during a scheduled major overhaul and can be carried out without removing the engine from the vessel. This means that the benefits of a new engine can be achieved without replacing the engine and also significant fuel savings can be achieved without removing and/or replacing the engine.
The emission reduction kits are claimed to demonstrate significant reductions of particulate matter, nitrogen dioxide, hydrocarbons and carbon monoxide which makes them particularly suited for engines fitted to tugs and other vessels that operate in harbours.
Upgrade kits are also available for selected engines from the 3600 range of Caterpillar diesels. Available for engines from the 6 cylinder through to the 16 cylinder units, the 3600 EUI Upgrade Kit is designed to regulate engine solenoid timing and duration, and dispense exact fuel amounts at every cycle for optimized engine combustion. The improved fuel injection means reducing combustion by-products and it can also lead to reduced maintenance checks and improved fuel efficiency. It will also lead to a reduction in transient smoke and steady state smoke but these kits are not available for engines operating on HFO.