South America's Atria Logistics is making progress with the retrofit of its pushboat fleet with Thorndon's water lubricated tailshaft and rudder bearings.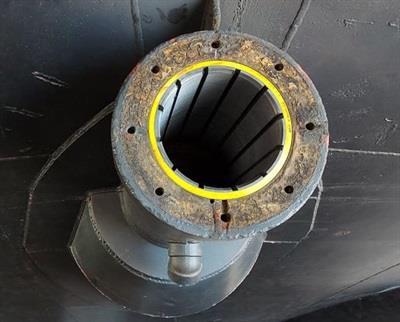 Atria Logistics operates a 26-strong fleet of powerful pushboats of between 7,200hp and 8,200hp, handling up to 42 barges on the nearly 5,000km long Paraná River linking the major cities of Argentina and Paraguay. The river is characterised by the abrasive nature of its water reportedly leading to high wear rates for conventional rubber tailshaft bearings and in 2014 Atria selected Thorndon Bearings to install RiverTough tailshaft bearings to its 41m pushboat Conception.
Following inspection in 2020 Conception's bearings were found to be in good condition and operational for at least five more years of service so taking advantage of the dry season and lower river traffic Atria converted Cavalier IV, Cavalier X, Cavalier XII, Titan, Pluton and San Martin at its Pueblo Esther Shipyard in Santa Fe, Argentina and the whole fleet is now in the process of being retrofitted with the tailshaft and rudder bearing arrangements.
The refits were carried out by Thorndon's distributor Marine Logistics involving the supply, installation and commissioning of the vessels with RiverTough tailshaft bearings along with SXL grease-free rudder bearings, the vessels previously having stainless steel rudder shafts with greased rubber or bronze bearings. The varying power of Atria's vessels mean tailshaft diameters vary between 200mm and 305mm and Thorndon's products can be machined to suit non-standard housings.
Describing the differences between old and new, Marine Logistics' Hernan Lopez stated: 'RiverTough bearings can help deal with misalignment. Some of the rubber bearings had up to 10mm clearance, which led to unacceptable levels of vibration.' Mr Lopez adds that Atria intends to continue the bearing replacement programme with SXL rudder bearings and thrust washers, Pucker Seals and RiverTough propeller shaft bearing with Thorndon's TG100 shaft seal also being considered.
The end-user is the ultimate judge perhaps and when Cavalier X was refitted Atria noticed a significant improvement in operations with Thorndon's business development manager Egnard Bernal stating: 'Without even asking, they said 'it is a relief to have them. The bearings don't have to be greased anymore and operation is very smooth'. Even the captain asked what we did to reduce vibration and friction. They are delighted.'
By Peter Barker