When Tower Bridge in London UK was due for an upgrade, after its management team identified a problem with their bascule raise mechanical drives, it brought in a team of international civil engineering experts.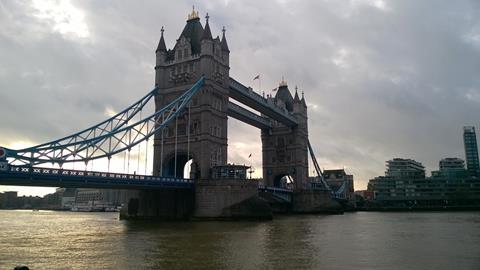 Control specialist Fairfield, was brought in along with gear and motor installation specialist Dana Brevini to assess the situation. The two companies work together across a whole range of civil infrastructure projects, including maritime applications such as swing bridges and sluices.
Andrew Baggaley, aftermarket manager at Dana Brevini, said: "We were delighted to be invited to work on this high-profile project, a commission which reflects both Dana Brevini's expertise as well as the excellent relationships we have with companies and suppliers to the civil engineering sector."
The team found that the problem at Tower Bridge related to the existing immersion heaters, used to keep the oil warm enough to be pumped round the gearbox for effective lubrication when the bridge lift is operated.
Dana Brevini found that the oil and gear case was contaminated internally with black carbon deposits typical of extreme overheating and the immersion heaters were identified as the source of the problem. The original electrical resistance heaters seemed to have had a failure of thermostatic control.
So the engineers identified a better option going forward – to recirculate the oil through an inline heater and filter. This option conditions the oil and can be left running continuously, meaning that heat is only supplied when ambient conditions require it.
The recommended heater and filter system was supplied to Tower Bridge by specialist CC Jensen, whose technology is used extensively in marine and powergen applications. This filter system removes both debris and water content, where condensation is a problem.
Tower Bridge management had strict standards for the pipework installation which required Fairfield to offer a turnkey installation, which Dana Brevini facilitated. This included the supply of new recirculating heater filter units, removal of the original heaters, and installation of new sensors and pipework.
Crucially, all work was accomplished without affecting bridge lifts.
A feat of 19th Century engineering, Tower Bridge is one of London's favourite icons. Under the Corporation of London (Tower Bridge) Act 1885, the bridge is required to be raised to provide access to and egress from the Upper Pool of London, day and night, 365 days a year. It's raised around 800 times per annum.
By Anne-Marie Causer