The US branch of RIB builder Ribcraft has been awarded a major contract from the US Navy for 11 metre RIBs that will extend over 5 years writes Dag Pike.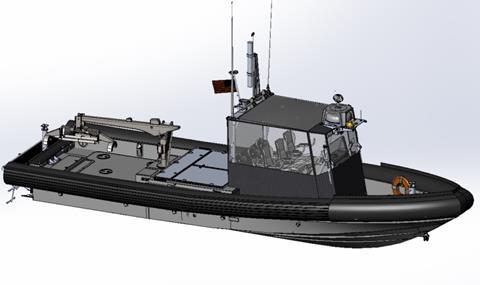 These new RIBs are designed to support explosive ordinance disposal/ mine counter measure platoons in both deep and shallow water operations. To meet this requirement Ribcraft will build two alternative versions of the 11 metre RIB. One of these will have an open aft deck for the stowage and deployment of two combat rubber raiding craft whilst the alternative will feature a launch, recovery and handling system for the deployment and retrieval of an unmanned underwater vehicle (UUV). This latter version will give the RIB the ability to launch, recover and handle two UUVs using a single davit.
These RIBs feature an enclosed forward wheelhouse with seating for a four man crew. This crew will be provided with Shockwave impact mitigating sprung seats for improved crew comfort and the boats will be equipped with a variety of specialised electronic equipment.
The RIBs will be powered by a pair of Cummins QSB-6.7 diesels that will each produce 473hp and drive through Hamilton 292 water jets. The top speed has not been revealed but this propulsion system will give the boats the ability to operate in very shallow water as well as perform well in the open sea. The engines are housed in a raised box just aft of the wheelhouse and this leaves the aft deck clear as a working and stowage area.
"We have enjoyed a long and collaborative relationship with the Navy", said P. Brian Gray, the president and CEO of Ribcraft USA. "We have a proven track record of meeting the needs of the Navy with exceptional products and service".
Ribcraft already has contracts with the Navy for the supply of 7 metre RIBs and this new contract builds on that work. The current contract extends for 5 years and is what is called an indefinite quantity contract where the final contract numbers have not yet been determined. A critical requirement for these RIBs was that they must be transportable around the World by land, sea or air and be capable of being operated from a variety of US Navy ships.