Scour Prevention Systems, Ltd has been granted a full US patent for its Scour Prevention Mattresses (SPM) which protects offshore structures, cables and pipelines from scour.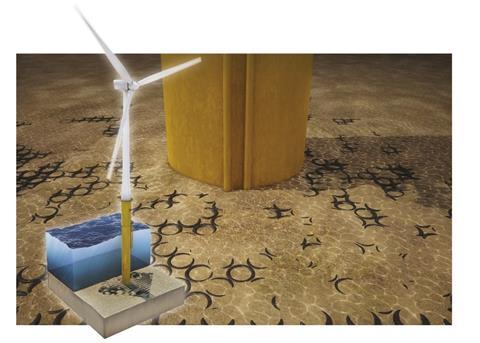 It is a significant milestone for the Lowestoft, UK-based company because US patent approvals are difficult to achieve.
The company received a £7200 grant from the SCORE programme to fund its US patent.
The unique anti-scour product is already patented for the UK and other countries, including Japan and China.
The Scour Prevention team is already working with partners to supply its approved SPM products for the latest offshore wind projects in the US.
Seabed erosion and scour around marine structures have been highlighted by offshore industry leaders as being among the biggest challenges facing the development of major offshore projects in shallow waters.
Scour is caused by water turbulence and often as a direct result of a man-made structure interrupting current flow. Scour prevention measures are regularly deployed when wind turbines are installed in order to address this serious risk.
RECYCLED TYRES
The SPM is uniquely constructed from a matrix of end-of-life vehicle tyres which traps sediment to form a stable protective layer on the seabed or over cables and pipelines. SPM's have already been used to prevent scour and associated damage at subsea cable and foundation structures in the North Sea and are being considered for new projects offshore Africa and South East Asia.
Sarah Niddrie-Webb, of Scour Prevention Systems, said the award of the US patent protection offered huge potential for selling the SPM concept for prevention and remediation of scour for US offshore projects.
"We are delighted with the award of this patent for the US and now free to openly work with key industry partners, industry bodies, agents and distributors, as well as directly to the end users. Our run of successes in getting a string of international patents awarded for the SPM over the past 12 months has given us a great platform to expand our offer internationally.
"We will be starting with the US Offshore Wind sector which is predicting rapid growth with more than 8GW of installed capacity by 2030. This will take hundreds of new larger capacity turbines and thousands of kilometres of cabling, all of which needs protection!"
Marine and offshore scour is recognised as a continuing challenge for subsea engineers across all offshore markets including preventing and repair to protect offshore structures, and monitoring and inspecting subsea cables and pipelines.
MULTIPLE MARKETS
This innovative solution of the SPM has applications across the offshore and coastal marine markets in the likes of offshore wind, oil & gas, telecoms, ports and harbours and decommissioning markets. The SPM mattress is formed from car tyres and thereby offers unique and dual benefits of preventing scour and recycling tyres.
Scour Prevention Systems is a previous winner of East of England Energy Group's Energy Innovation award and was highlighted by national trade body Decom North Sea as one of 10 companies with cost-saving solutions for the market as part of industry innovation showcase.
Rob Bush, SCORE project manager, said: "We're delighted to be able to help a company break into the young US offshore wind market with such an innovative way to upcycle tyres into this mattress system to create a versatile protection for pipelines and subsea structures."
SCORE offers grants to help companies across England to develop new products, processes and ideas which bring economic benefit to the East of England.
Grants are available to start-up and established companies for up to 40% of eligible costs or £50,000, whichever is the lower, with a minimum grant of £2,500.
The programme is part-funded by the European Regional Development Fund (ERDF) and is open to companies with fewer than 250 employees and an annual turnover of less than 50 million euros.
The funding is designed to help companies in a wide range of areas, including research and development, collaboration with universities and research bodies, securing patents, acquiring specialist equipment or services and investigating the commercial viability of processes and technologies.
Companies can also access up to 12hrs of subsidised business support from enterprise agency Nwes to help grow and develop their business.
The current programme is delivered by Nwes, the largest enterprise agency in the UK and in partnership with energy industry experts Nautilus Associates and the National Offshore Renewable Energy Catapult centre.
By Jake Frith