Robert Allan Ltd (RAL) has announced that Turkey's Uzmar Shipyard has officially joined its Century Club with construction underway on the 100th RAL designed tug.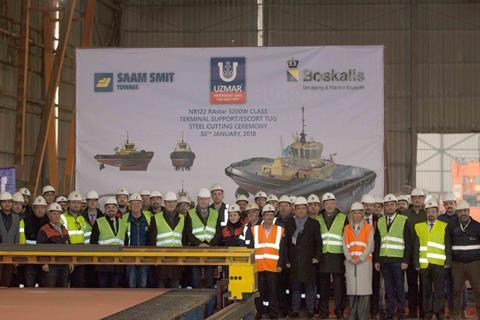 The new tug is an example of RAL's RAstar 3200-W design destined for service on Canada's west coast with Saam Smit Towage. RAL state the new vessel is a great fit for this significant milestone, representing as it does the state-of-the-art in design and construction of ASD escort tugs in a sub-500grt hull.
The RAstar's hull and deep skeg are optimised for generating high indirect escort forces when towing over the bow while equally capable of conventional towing operations over the stern. Sophisticated safety features are a requirement for tugs that may be employed at LNG terminals and the RAstar includes: gas detection, explosion-proof deck equipment, off-ship firefighting capability and one of the first applications of an IMO Tier III emissions compliant propulsion package on a tug. RAL add that together, these features will make this newbuild the most capable tug in Saam Smit Canada Inc's fleet and one of the greenest tugs in the world. Delivery of this milestone in Uzmar's history of building high quality tugs is expected in early 2019.
At the time of the announcement RAL also provided an update on tug construction from its design portfolio at Uzmar Shipyard. Eight other vessels are currently in build alongside the RAstar 3200-W (vessel number 100) at the shipyard in the Kocaeli Free Zone. These include six new RAstar 2300s and a pair of RAmparts 3000 tugs with construction due to start soon of 20 tugs between 50 tbp and 85tbp.
Others to look out for into the future include the new RAstar 3000-UZM, RAmparts 2300-UZM and Ramparts 2500-W designs, all indicating a range of similar-sized tugs but optimised for specific requirements of the individual customer. Work is also underway at RAL on new Uzmar exclusive DRAfter 2500-UZM and RAve 3200-UZM designs with both companies eager to see these join the Uzmar portfolio in the near future.
While dating back to 1984, Uzmar started building workboats for its own fleet and later for international markets in 1996. In 2007 it established its modern shipbuilding facility at Kocaeli Free Zone.
By Peter Barker