Damen Shiprepair Vlissingen, Holland has recently completed maintenance and repair works on the Van Oord-owned Split Hopper Barges 'Jan Blanken' and 'Jan Leeghwater'.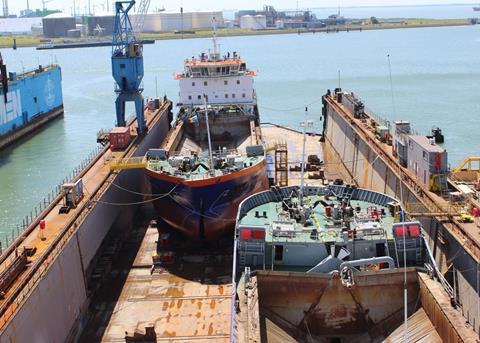 Damen Shiprepair Vlissingen Project Manager Ron Brusket sums up the projects neatly, saying: "There were no major repairs to be carried out; it was rather a case of completing quite a lot of relatively small jobs to get them both ready for action again."
For example, all the ships' systems needed to be checked and bought back up to speed where necessary. Minor steel works and touch-up painting were also required on both vessels. "We also renewed numerous sections of the hopper seals and removed the existing wooden main deck coaming."
Damen Shiprepair Vlissingen handled the two sister vessels in its floating dock which, with its 229-metre length and 23,000-tonne lifting capacity, was more than able to accommodate the pair. The yard's floating dock complements the rest of its facilities, including a 175-metre dry dock, a 215-metre covered drydock and three lay-by berths.
The Damen team completed all the works within a 10-day period; allowing Van Oord to continue with their own planning on schedule. "We have a developed a good relationship with Van Oord over the years – one that is based on strong cooperation," notes Mr Brusket. "We look forward to working with their team again in the future."
The vessels, both with 2,853 m3 hopper capacity, left the yard on schedule just 10 days after arrival.
Damen Shipyards Group operates 32 shipbuilding and repair yards, employing 9,000 people worldwide.
By Jake Frith