Van Oord recently completed the Bacton to Walcott Coastal Management Scheme for North Norfolk District Council (UK).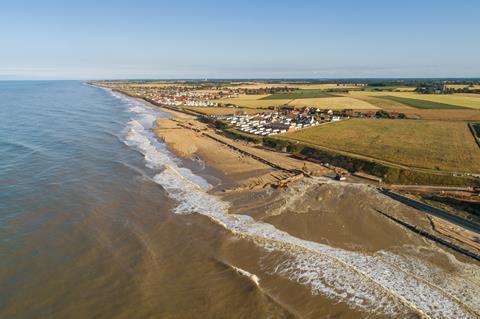 The UK's first ever sandscaping coastal flood scheme was carried out by Van Oord and Royal Haskoning DHV on behalf of NNDC.
Van Oord's trailing suction hopper dredger HAM 318 deposited 1.8 million m3 of sand over a total length of 6km in front of the existing gas terminal between the villages of Bacton and Walcott to protect that stretch of coastline from erosion. Much of the places sand serves to protect the huge and strategically important gas terminal. The extra sand placed by Van Oord will be carried by the current along the Norfolk coast and end up on the coastline further south by way of natural process.
The project, designed by Royal Haskoning DHV, is an export project based on the Dutch Sand Motor, a 'mega-nourishment' implemented on the North Sea coast of South Holland. The pilot project to test the upscaling of regular sand nourishment along the Dutch coast was carried out by the country's Ministry of Infrastructure and Water Management Works (Rijkswaterstaat). The regulat programme aims to preserve the coastline and protect against flooding whilst also creating temporary space for leisure activity and nature development as well as acquiring a better understanding of the behaviour of the coastal system. The multiple purposes make it an example of a Building with Nature (BwN) solution that uses natural processes to fulfil multi-functional purposes in coastal management.
Bacton to Walcott project milestones included th decommissioning of existing outfalls and installing a new outfall. Van Oord's UK based subsidiary J T Mackley & Co took charge of works related to the pipeline connections towards the new oitfall on the existing beach.
Representing the client, North Norfolk District Council councillor Sarah Butikofer said: "It's incredibly exciting to see this project come to fruition. Protecting local homes, communities, businesses and nationally important infrastructure from the full force of the North sea, this innovative Scheme, a prime example of engineering with nature, has been designed to address the real threat of coastal erosion and its devastating impact which here in North Norfolk we are all too familiar with."
By Larz Bourne