Dutch dredging and marine construction major Van Oord will present a series of white papers to underline its commitment to sustainability as embodied in its new Sustainable Earth Actions (S.E.A.) programme.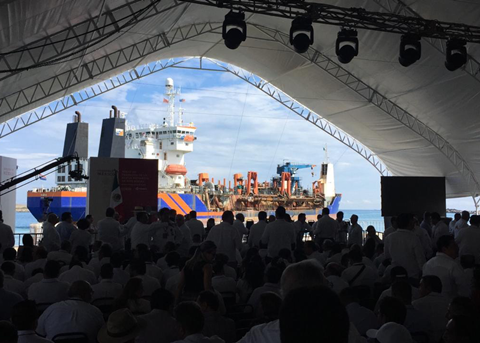 The first paper on Accelerating Climate Initiatives highlights the scale and scope of the climate challenges the world is facing, with Van Oord proposing ways of meeting these challenges using adaptation measures.
Van Oord sees the world facing many challenges in the fields of water management and energy. The goal will be to make societies more resilient and sustainable whilst creating a better world for future generations. Sustainability, innovation and collaboration are the keys. Van Oord's S.E.A. programme is about taking action. Accelerating Climate Initiatives, Enhancing the Energy Transition, and Empowering Nature and Communities are the main topic areas at its platform https://www.vanoord.com/sustainability.
One example to be found there addresses the ways in which climate change, soil subsidence, heavy rainfall in monsoon season and increasing urbanisation are causing problems in the Indonesian capital, Jakarta, one of the fastest sinking cities in the world. The Indonesian government has therefore introduced the Jakarta National Capital Integrated Coastal Development (NCICD) , a plan aimed at guaranteeing the safety of millions of Jakartans during floods whilst expanding the city's living and working environment towards the north.
Van Oord has been working on the country's Tanjung Priok port expansion project, part of the Indonesian government's plan for investing in infrastructure whilst providing a sustainable incentive for economic growth. Van Oord has also constructed the Kapuk Naga Indah island, the first in a series of three islands intended to protect the coast of Jakarta from the sea as each year parts of the city sink by some 10 to 20cm.
Elsewhere, Mexico's president Andres Manuael Lopez Obrador gave the green light last month for land reclamation works to the value of €235 million associated with the new PEMEX oil refinery at Dos Bocas in Mexico. Within ten months Van Oord will reclaim some 12 million cubic metres of sand to create 600 hectares of new land.
Van Oord will deploy its largest cutter suction dredger and a medium size trailing suction hopper dredger for the land reclamation works. The project also includes 400 hectares of dynamic compaction and six million cubic metres of dry earth movement.
By Larz Bourne