Italian boat builder FB Design specialises in fast patrol boats but has also built some low profile patrol boats for the police in Venice. It was this Venice experience that led some marine contractors in Venice to approach FB Design for ideas about a landing craft type design that could be used for transporting materials and personnel about the city which relies entirely on water transport.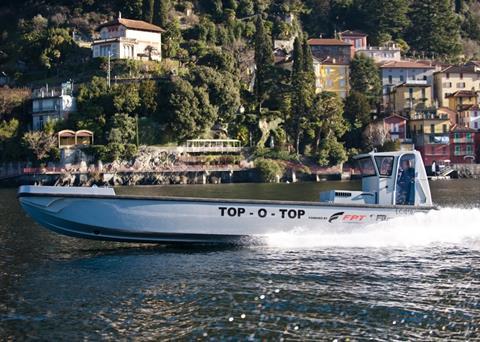 Many of the boats operating in Venice are powered with stern drives which tend to have a short operating life in the often harsh conditions. The contractors wanted a boat with excellent manoeuvrability without stern drives and FB Design developed a concept based on one of its existing hulls. This is the FB32, a deep vee hull design for operating at speed with twin SP surface drives.
The modification involved designing a complete new deck moulding that would widen the bow and accommodate a single propeller operating in a semi-tunnel. Using their 5-axis router allowed the new moulding to be produced in a very short time and as is normal with all FB Design boats, the hull and deck mouldings incorporate their Structural Foam system where foam under high pressures fills the space between hull and deck making the boat both stronger and unsinkable.
The control console is located at the stern and can be enclosed with a retractable wheelhouse that reduces the air draft allowing the boat to pass under the low bridges in Venice. The long open cargo area can accommodate a wide variety of loads including quad bikes and small vehicles and an electric-hydraulic platform at the bow speeds up cargo loading and discharge. A crane can be fitted if required.
Power comes from a single FPT 350 hp diesel with straight shaft drive to the propeller via a ZF gearbox. A speed of 34 knots can be achieved in light condition and this drops to 23 knots with a 4 tonne payload on board. Excellent manoeuvrability is achieved with electrically powered bow and stern thrusters but FB design is developing its own design of thruster with a hydraulically driven pump powering a four jet water thruster system. In its current form the boat can achieve 3 knots when going sideways.
Whilst this specific form of the boat has been designed for Venice, the concept has been developed to make it adaptable to a wide variety of uses. These can include as a water taxi and for personnel transport and the boat could make a versatile harbour launch capable of servicing mooring as well as transporting goods and patrolling harbours. There is already considerable interest from the Far East for this design and an alternative version can have twin engines and higher speeds are possible.
By Dag Pike