VersaDock, the UK-based floating pontoons and modular dock solutions specialist, showcased its new VersaDock Static Drive on Dock at Seawork, the first time it has been exhibited anywhere in the world.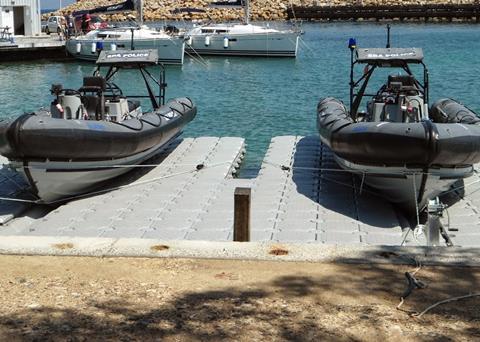 The VersaDock Static Drive on Dock is the only dock of its kind which can float vessels of up to three tonnes clear of the water. All types of workboats and RIBs can be driven straight onto the stable dry platform in seconds, guided by VersaDock's patented V-float cradle.
The Static Drive on Dock, an advanced modular system, was demonstrated on the Netherlands-based Tideman Boats BV stand, where it supported a Tideman HDPE (High Density Poly Ethylene) high speed workboat.
VersaDock also unveiled how its VPS Air Assist Drive on Dock system supports vessels such as the Delta RIB police jet boat. A fully bespoke drive on docking system, the VPS Air Assist is designed to the individual specifications of commercial and military vessels using VersaDock's modular components.
VPS Air Assist accommodates large RIBs over 8m and vessels from 3 to 26 tonnes. The vessel is easily driven onto the submerged dock which is then raised and supported by its powerful load-carrying airbags.
By Rebecca Strong