A marine institute in Belgium has taken delivery of an autonomous underwater vehicle (AUV) that is configured for diverse research applications and rated to 1,000m depth in a low logistics form factor.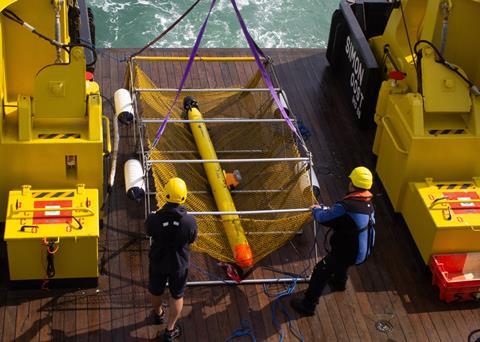 The Flanders Marine Institute (VLIZ) in Oostende, Belgium is the new owner of a Gavia AUV from Teledyne Gavia. AUV Barabas, which has recently undergone Sea Acceptance Testing, includes an array of scientific instruments to meet current and future VLIZ research requirements.
Wieter Boone, head of the VLIZ Marine Robotics Centre, said: "We were looking for a versatile system, to operate both in shallow and deep areas. The Gavia stood out as low logistic solution with large selection of sensor options.
"The addition of the Gavia AUV will significantly increase the operational capabilities of the centre in scientific campaigns and in collaborative projects with partners from the blue economy."
Modular by design
The modular nature of Barabas allows sensors to be added as mission requirements dictate.
Barabas is configured for diverse research applications and includes an iXblue INS coupled with a Teledyne RD Instruments Pathfinder ADCP up/down for highly accurate navigation and current profiling; Klein 3500 side scan with bathymetry; camera system; Gavia Science Bay module housing an iXblue GAPS transponder for use with an existing VLIZ owned USBL system; Aandera dissolved oxygen; Wetlabs ECO puck; and RBR CTD.
A SUNA nitrate sensor and Pro-Oceanus Mini CO2 are mounted externally as required.
A Gavia Portable Launch and Recovery cage with a nose recovery system was also supplied to VLIZ for safer LARS procedures.
By Rebecca Jeffrey