Another interesting emergency response vessel from the drawing board of Marine Engineering Bureau in Odessa is scheduled for delivery this year from the Okskaya Sudoverg (OKA) shipyard in Navashino Russia.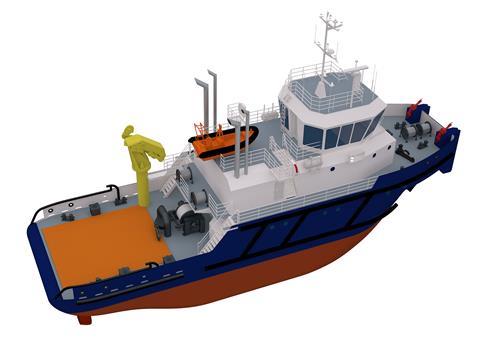 Built to Russian Maritime Register of Shipping class, the ASD tug carries the notation: KM, Arc 4 R1, AUT3-C, FF3WS, Tug and is powered by two Cummins K38-M main engines each delivering 634kW to Z-drive propulsion units. Auxiliary power is also provided by Cummins from two NTA855-CP200DM5 generators, each delivering 200kW and positioned one in front of the other on the vessel's centreline between the main engines.
The vessel is 31.7m long, 9.7m wide and 4.1m moulded depth and while illustrations depict a conventional hull-form below the main deck with standard V-shaped bow, the forecastle deck has a square form featuring twin-fendered push-bow arrangement. The square transom, clear aft-deck and parallel vessel sides demonstrates the multi-purpose role for this interesting design similar to 'multi cat' type craft as much as a standard tug. The positioning of the accommodation block is as for a standard tug of this size.
Roles include normal harbour towing operations along with oil spill response, deployment of booms, auxiliary transport of equipment, fire-fighting and cargo handling with a deck crane aft. A 20t brake towing winch is mounted aft with two fire monitors forward and a rescue craft stowed on the deckhouse aft serviced by the deck crane.
One double berth and two single berth cabins are provided in the deckhouse at forecastle deck level with four double berth cabins at main deck level together with mess room and galley, all cabins are en-suite. The lower deck (engineroom level) includes a laundry, changing rooms, shower and WC facilities. The wheelhouse has two command seats on rails, one on the centreline and one set to starboard along with a console and seat to starboard.
By Peter Barker