Edison Chouest Offshore (ECO) will construct the US offshore wind industry's first ever mini-crew transfer vessel (CTV), designed by Chartwell Marine.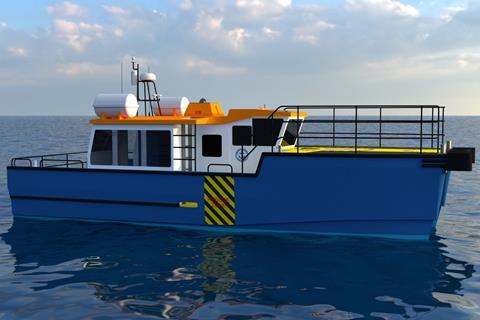 Set to begin operations in summer 2024 for Ørsted and its US-based joint venture partner, Eversource Energy, the CTV will simultaneously accompany the launch of ECO Edison, the first ever American-built service operation vessel (SOV) announced in April this year.
"This vessel is the small but essential chain connecting SOVs and turbines together," said Andy Page, managing director of Chartwell.
"But it's not a one-size-fits-all — turbines come in different configurations, with different requirements for effective crew transfer. That's why we collaborated with Ørsted to thoroughly test and tweak our design to the joint venture portfolio's particular needs."
US offshore market
The new mini-CTV will act as a daughter craft onboard the SOV, which can be deployed to efficiently manoeuvre crew across the Northeast US Revolution Wind, South Fork Wind and Sunrise Wind offshore windfarms, currently under development by the joint venture.
Building of the vessel commenced in July 2023 at Edison Chouest's Louisiana shipyard, drawing components from US suppliers and using Chartwell's innovative design from its expanded range of offshore wind support catamarans.
ECO will manage the entire pipeline of construction and operation, supported by the incentives provided by the Inflation Reduction Act.
This vessel is yet another example that American offshore wind energy is providing economic opportunity and creating jobs both in the US and further afield.
Chartwell's design responds to the increasing demand in the US offshore wind market for low-emissions, cost-effective support vessels, with the catamaran's optimised hull form offering efficient fuel use, as well as stability and manoeuvrability in choppy waters.
A first for this vessel type, the Volvo Penta integrated propulsion system (IPS) provides high power and performance, in addition to onboard comfort for operators. The system allows for a wide number of optional features and functions, featuring forward-facing, twin counter-rotating propellers with an individually steerable IPS under the hull.
The 12-metre mini-CTV has a capacity of up to 12 personnel and is designed to be conveniently deployed from ECO Edison during extended offshore stays, offering efficient access to turbines, vessels and other critical project infrastructure.