ABB will supply two newbuild Havfram Wind NG20000X-HF Wind Turbine Installation Vessels (WTIVs) with a comprehensive bridge-to-propeller solution.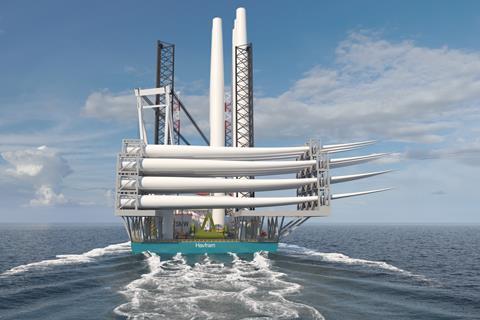 The equipment will bring integrated power, control and propulsion technology to the newbuilds to enable efficiency, safety and operational flexibility.
"The performance of our Wind Turbine Installation Vessels will be pivotal in meeting the needs of the offshore wind market today and tomorrow," said Even Larsen, CEO Havfram Wind.
"To ensure superior performance, we chose the broad scope of ABB power, control, propulsion and automation technology, complemented by the through-life support from ABB's remote diagnostics and global service capabilities."
Next generation
Havfram's advanced, future-proof and next generation WTIVs will stand out for their high capacity and energy efficiency.
The vessels, which incorporate the latest battery-hybrid drivetrain technology, will have the capability to install offshore wind turbines with a rotor diameter of more than 300 metres, as well as XXL monopiles weighing up to 3,000 tonnes at water depths of up to 70 metres.
ABB scope of supply comprises four Azipod electric main propulsion units with a total propulsion power of 17MW; the Onboard DC Grid power distribution system; a 4.1MWh energy storage installation; ABB Ability Marine Pilot Control with Dynamic Positioning System for advanced vessel control; and a comprehensive package of automation and digital technology.
Once in operation, the vessels will be able to leverage the benefits of connecting digitally to the ABB Ability Collaborative Operations network for remote support and predictive maintenance.
The Havfram Wind vessels will have specific capabilities that future proof them as the offshore wind sector is progressively moving further offshore. These capabilities include instant load power and enhanced dynamic performance available to batteries, plus the manoeuverability and station-keeping accuracy brought by Azipod propulsion. In addition, weight benefits provided by Azipod propulsion can be up to 30% compared with traditional mechanical thruster solutions.
Designed to optimise vessel responsiveness, efficiency and safety across the entire operating profile, ABB Ability Marine Pilot Control allows for seamless transition from position control to joystick maneuvering. The DP2 functionality adds redundancy in technical design, ensuring that in the event of a single system fault, the vessel's position will be maintained. This is particularly important for safe and reliable operations of construction and windfarm vessels working alongside fixed structures.
The new Havfram Wind vessels will also benefit from ABB's extensive experience in closed-bus and closed-ring solutions for dynamically positioned vessels.
Closed bus-tie and closed ring operations bring benefits and efficiency gains compared with traditional open-ring solutions, which require a greater number of online engines and total installed power. Moreover, they meet critical safety regulations, increase operational flexibility, efficiency and allow cost savings.
The vessels are currently under build at Yantai CIMC Raffles Offshore Ltd, China.