Artemis Technologies has revealed another crew transfer vessel design, this one 100% battery powered.
The EF-24 CTV has a range of 87 nautical miles and a top speed of 36 knots, the company says.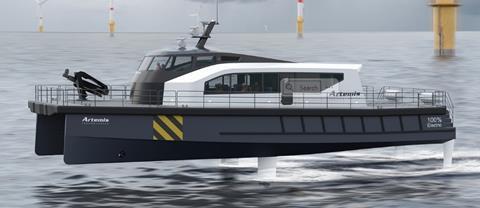 "The Artemis EF-24 CTV has been developed following extensive collaboration with key stakeholders in the offshore wind sector through Operation Zero and the Clean Maritime Demonstration Competition, including engagement with wind farm owners, turbine manufacturers, and CTV operators," said David Tyler, director at Artemis Technologies. "With the ability to transit at over 30 knots in 2.5m HS, the EF-24 CTV is a game changer in offshore wind operations."
As a fully electric vessel there are certain caveats, such as the distances it will realistically be able to transfer crew to and from, especially if there is no option for charging at the wind farm.
"Research undertaken by Artemis Technologies as part of our CMDC1 eFoiler-CTV feasibility study indicated that out of all of the UK wind farms that are fully commissioned, under construction or in pre-construction phase, 8GW, or 42% of total capacity, were less than 30 nautical miles from operational port, and within the operational window of the EF-24 CTV," said a spokeswoman in response to MJ's queries.
"There are a number of offshore charging solutions in development and testing phase, and we are following those projects very closely. We were directly involved in supporting the development of MJR's on-turbine charging system, which was also supported by CMDC1."