Artemis Technologies has unveiled the latest iteration of its EF-12 crew transfer vessel (CTV) and daughter craft.
The EF-12 is a 100% electric hydrofoil for supporting crew transfers at offshore wind farms. The company says this latest generation has been designed to prioritise the comfort and efficiency of crew working in demanding maritime environments.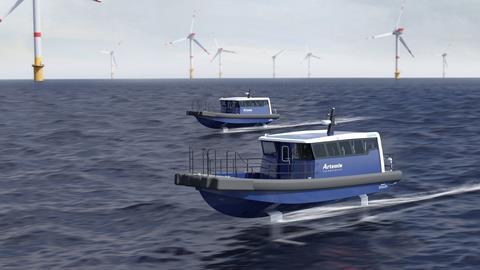 "The introduction of the revitalised Artemis EF-12 CTV marks a significant step forward in our ongoing drive to provide the most advanced maritime solutions," said David Tyler, co-founder at Artemis Technologies.
"The enhanced cabin design, coupled with our unwavering commitment to maritime innovation and safety, sets a new benchmark for crew transfer vessels, ultimately enhancing the efficiency and effectiveness of offshore operations."
Key enhancements include:
An updated dual drive with the option of an additional propulsion system on the rudder to provide double the power during bollard push manoeuvres as well as improved slow speed control.
A significantly larger cabin with increased capacity to 12 passengers.
Enhanced safety features such as improved impact resistance and fire suppression technology.
Seamless connectivity with real-time data exchange between crew and onshore operators.
Artemis Technologies has partnered with Ørsted, offshore access specialist Tidal Transit and Lloyd's Register to deploy the first EF-12 CTV at Ørsted's Barrow wind farm on the UK's west coast next year.
The project was awarded £2.4 million as part of the Clean Maritime Demonstration Competition Round 3 (CMDC3), funded by the UK's Department for Transport and delivered in partnership with Innovate UK.