BAR Technologies is working on a 50m vessel to plug the gap between Crew Transfer Vessels (CTVs) and Service Operations Vessels (SOVs).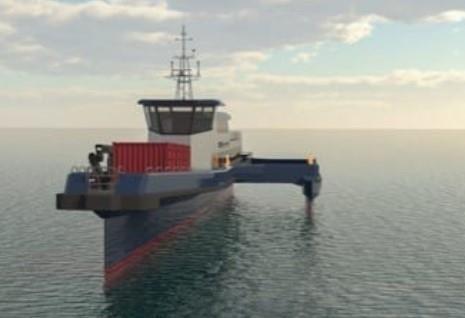 BAR Technologies is working on a 50m vessel to plug the gap between Crew Transfer Vessels (CTVs) and Service Operations Vessels (SOVs).
The BARTech 50 is a bigger version of the BARTech 30, which is currently on charter to Equinor in the North Sea. This big sister offers crew transit in seas of up to 3 metres at a top speed of 50 knots, and the hull form comes with a 30% fuel saving on traditional vessels, according to chief technical officer Simon Schofield.
"One thing driving the demand for the bigger vessel has been the oil and gas industry, to replace helicopter transits," Schofield told Maritime Journal on the side lines of last week's Seawork commercial marine trade show.
"It will be a CTV for further offshore sites, capable of much higher speeds of 50 knots but still fuel efficient compared to other SATVs (Service Accommodation and Transfer Vessels) and smaller than SOVs."
He says Asia is already rolling out similar vessels as an experiment, and that they make sense because where SOVs can take five to six years to build and are 10 times as expensive as CTVs, these are just a step up from the current CTVs and can be built in a similar time frame of about one year.
"They're hybrids in that they can operate like a CTV but also have accommodation for technicians to stay for two or three nights, and can come back and forth," he said.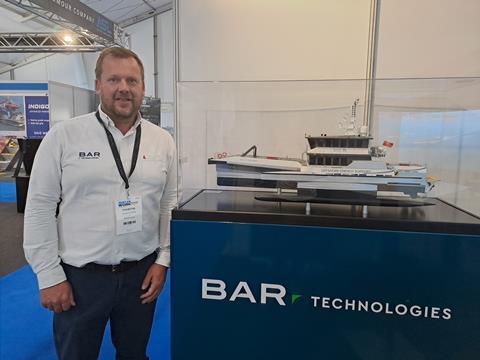 "The fleet of the future is going to have to be different for different parts of the industry. If a farm is close to shore it's very easy to see CTVs dash in and out and take technicians to and from work daily. But the farms are getting further out and we need more efficient and comfortable vessels."
The BARTech 50 builds on the BARTech 30, with its two unequal length hulls and advanced active foil stabilisation technology.
It was designed to replace traditional catamarans with reduced fuel consumption and vertical acceleration so that it can travel at a higher speed in a worse sea state, Schofield said.
"In reality it's achieving a lot more because it can go in sea states that the traditional ones wouldn't be able to go in at all," he said.
Equinor, which operates the Seacat Services-owned BARTech 30 in Great Yarmouth, UK, like many international firms has company-wide decarbonisation targets, which is creating more and more opportunities for vessel designers and builders.
"Vessel operators are getting pressure from above, their shareholders and the general public, to reduce their emissions," he says. "Orsted, for example, is treating cutting emissions as more important than making money."
Daughter craft venture
BARTech also has a foiling daughter craft on its drawing board.
She will be a fully electric craft with foiling propulsion specifically designed for SOVs, Schofield said.
"The daughter craft will be able to transfer crew directly onto the turbines," he said. "CTVs can use walk-to-work systems but they are slow because you can only do one at a time.
"The daughter craft will carry 12 people."
BARTech will launch the daughter craft next year, and has been possible partly thanks to co-funding from the UK government's Offshore Wind Growth Partnership.
Schofield said demand was beginning to come from across the Pond, as well.
"There is a lot of demand now coming from the US because our vessels have proven we can do it with real data, so we are working with yards over there," he said.