A consortium of international marine partners has announced it will work together to build the world's first electric offshore Service Operation Vessel (eSOV).
Led by British shipping firm Bibby Marine, the consortium includes Kongsberg, DNV, ORE Catapult, the Port of Aberdeen, Shell and Liverpool John Moores University.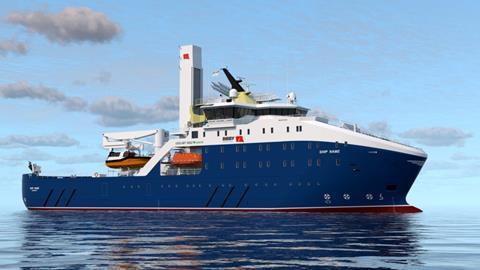 The vessel will have a 20MWh battery system backed up by dual-fuel methanol engines and 'associated shore-charging facilities', which the announcement did not go into detail about.
Funding for the build has come from ZEVI – the Zero Emission Vessel Infrastructure competition funded by the UK taxpayer, in which £20 million has been handed to the eSOV project.
"This is the world's first eSOV and the first new vessel for Bibby Marine in five years," said Bibby Marine CEO Nigel Quinn. "Designed in the UK, the vessel will be a game changer for our industry – supporting its ambitions to turn the UK into the world's number one centre for green technology, create jobs and accelerate our path to net zero, by harnessing the best of British technologies. The vessel also offers the opportunity for customers to increase local content and will shine a light on UK innovation."
Andrew Macdonald, director of Development and Operations at ORE Catapult, said 300 such vessels would be needed in Europe by 2050.
"This is an exciting project that will push the industry forward and help decarbonise short-sea shipping, whilst continuing to prioritise safe and efficient operations," said Alexandra Ebbinghaus, GM Marine Decarbonisation with Shell. "Shell is delighted to be part of this consortium, verifying the framework to manage maritime risk for the world's first zero-emission e-SOV."
Another four projects won funding under the ZEVI scheme.
Almost £5 million was awarded to a 'Zero Emission Network of Workboats', looking at electric workboats; £6 million will go to Tidal Transit, MJR Controls, Goodchild Marine and Artemis Technologies to retrofit a 20m crew transfer vessel into 100% electric; more than £12 million has been earmarked for A 'Zero-emission Electric Freight Vessel & Charging Infrastructure' project that includes Wight Shipyard and the Port of London Authority; and 'Electric Orkney', also including Artemis Technologies and its electric foiling vessels, will be given £15 million.