A former buoy-laying vessel has been converted into an Arctic expedition boat complete with two landing craft.
MV Vikingfjord was built in 1974 by Norwegian shipyard Simek, which closed down in 2018 because of a lack of orders.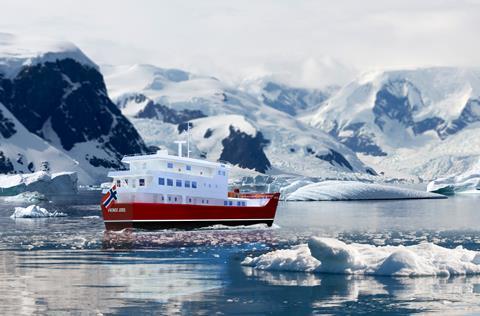 She is now owned by Myklebusthaug Management, headquartered in Fonnes, and before her new role as expedition vessel carried out various tasks, such as guarding cable-laying areas from trawlers in Hammerfest, northeast Norway, as well as laying buoys.
The 41.8-metre vessel has been re-built from the ground up, according to expedition operator Secret Atlas, which will charter the boat from Longyearbyen, on the Svalbard archipelago in the Arctic Ocean, some 700 miles south of the North Pole.
Vikingfjord is having her engine replaced with a new fuel-efficient Mitsubishi S12R-(Z3)MPTAW engine that is satisfied with EU stage IIIA & IMO-Tier2 emissions, improving the fuel consumption.
NOX cleaning is also being introduced to the funnel to reduce NOX emissions by up to 95% – 'almost unheard of' in such a small boat, says Marsh, because of the cost, but grants from the Norwegian government have helped with this.
Electricity will be generated from a new, more efficient propellor shaft and used to power the boat's onboard functions, reducing the load on the main engine.
The super structure remains the same, but where there would have been cargo, cabins have been built.
Secret Atlas was set up in 2019 specifically to arrange 9-10 day expeditions for smaller boats. When they were approached by Myklebusthaug to convert the vessel for this use, they were keen.
"The owner did a previous expedition tracing the steps of a replica viking ship from Norway to Greenland and then to the USA with a film crew onboard Vikingfjord," said Secret Atlas co-founder Andy Marsh. "This gave him the exploring bug, and now he is working with Secret Atlas to develop his first explorer expedition vessel."
Secret Atlas will be the sole operator of Vikingfjord offering expedition micro cruises, photo tours and private charters commencing in June 2023. There are plans for future trips to Greenland and Antarctica.