Damen Shipyards is reporting steady activity with delivery of a tug and pontoon for operation in the Caribbean and the securing of an order for a Multi Cat for a local Dutch owner.
When Trinidad-based A.R. Singh Contractors Ltd required a tug and pontoon to work in the marine contracting business in the Southern Caribbean, in particular for the urgent building of roads, hotels, shore bases and buildings in Guyana, Damen quickly supplied the newbuild Shoalbuster 3209 Aria along with a Stan Pontoon 4113.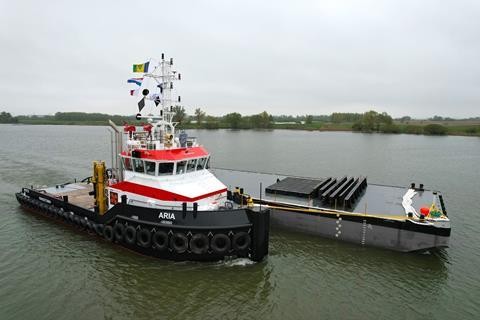 Both arrived recently in Trinidad after their delivery voyage from the Netherlands, Damen stating: "the vessels will have no time to lose to get to work."
Both vessels were built for stock with final completion of the tug including adapting the electrical network to better suit the region in which it will operate. The large working deck and heavy-duty crane and winch are described as "perfect tools for the rough work required", and Aria also has fifi1 notation including spray. Builder and client have experience with working together, A.R. Singh Contractors having previously taken delivery of the Stan Tug 2208 Adamant.
Largest workboat cat
Closer to home for Damen and another returning customer, Hardinxveld-Giessendam-based Van Wijngaarden Marine Services is due to take delivery of a 35tbp Multi Cat 3713, to be named Waddenstroom in October 2023.
The Multi Cat 3713 is the largest in the workboat range, early indications describing a versatile vessel with significant specifications. The customer's commitment to crew welfare, crew capacity and comfort is described as "most important" and Waddenstroom will have accommodation for up to 16 persons, 10 in cabins above main deck level, a first for the Multi Cat series, the remaining six accommodated in cabins below main deck.
DP2 capability for Waddenstroom via two 360' thrusters plus a conventional propulsion arrangement aft and two compact jet bow thrusters forward will allow it to target the renewables sector.
A diesel-electric propulsion arrangement will provide efficiencies along with preparations for future connection of a deck-mounted containerised battery package for zero-emission operations. Damen's Marine NOx Reduction System is included, providing IMO Tier III certification.
Standard 13.5t lift cranes forward and aft, anchor-handling, towing and tugger winches are also included along with bow and stern rollers and towing pins, The new addition will join five Damen Shoalbusters and a Multi Cat 3013 in Van Wijngaarden's fleet.