Three years in the life of Obervargh have proved competence in a multitude of tasks, from marine civil engineering support to recovery and salvage.
The 15m multicat workboat Obervargh, built in Sea Wide Services' own Cornish workshop, has proven to be even more versatile than originally envisaged (MJ August 2019).
Primarily designed to carry 35 tonnes of potable water for bunkering large ships in local waters, the vessel's first year in operation saw its functions redefined and the below deck space reconfigured to take in crew accommodation for longer distant jobs in a variety of locations and commissions. Indeed, during its first two years in service, the multicat covered approx 8,000 nautical miles, at 5,000 engine hours.
Shortly after being MCA coded for Cat 3 operations (60 miles from safe haven) the maiden voyage for the craft, whose name is Cornish for 'workhorse', was a three-day passage from Cornwall to the Clyde estuary to provide vibrocore surveys for CMS GeoScience at a marina development at Largs.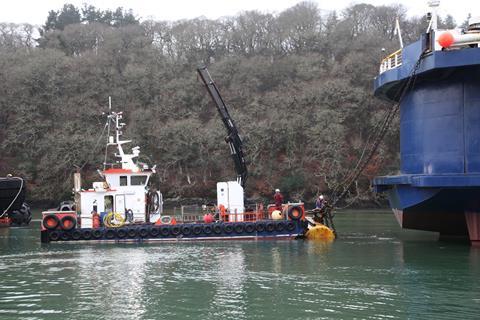 On return from Scotland it assisted rock armour installation and quay demolition at Littlehampton, and then laying and maintaining moorings for small craft in local waters around Cornwall and as far out as the Isles of Scilly. There was also work assisting the installation of prototype offshore renewables systems at test sites in Falmouth Bay.
Once the water tanks had been converted into workshop/day cabin and separate bunk rooms, Obervargh embarked on a long-term job from June until September, supporting a coastal replenishment project by KML off Withernsea, East Yorkshire, where it assisted with anchor handling and manoeuvring barges of rock armour shipped in from Norway. The original Hiab 26t/m crane was later replaced with a bigger 45 t/m unit.
Recovery missions
Back in home waters it was used for wreck recovery of several small craft following seasonal gales, and the towage of two decommissioned trawlers from Newlyn to the recycling yard at Truro. Other jobs have included prop washing flood gates at Truro, lock gate repair at Charlestown, regular stores replenishment to ships anchored offshore, the maintenance of commercial moorings and un-mooring car carriers and assisting ropax ferries laid up in the River Fal with their connection to sea-going tugs for onward delivery.
There was a quick voyage to Brest in France to pick up a 15m potting boat for towage back to Fowey for refit, and further work on harbour wall fendering at Penzance, as well as various projects at Mevagissey, Plymouth and other south coast locations.
For the G7 conference in June 2021, Obervargh was called on to lay temporary moorings in St Ives bay for the police and security forces. Back at Littlehampton the boat moved a barge carrying a 22-tonne sculpture of a humpbacked whale for onward towage to Dundee.
A return trip to the Humber Estuary for more vibrocore surveys at Grimsby was made during some heavy winter weather and the boat stopped over at Lowestoft and again at Ramsgate on the return voyage to shelter from force 9 gales.
A more recent commission over the 2021/2 winter involved laying pipe for seawater supply to the CEFAS marine science laboratory at Weymouth.
The vessel is also called out on occasion for dive support when subsea surveying or prop cleaning ocean-going ships in Falmouth Bay, and it is employed by the harbour authority to maintain commercial moorings, which has included the reattachment of a commercial mooring buoy that broke away during storm Eustace and was recovered by another workboat of the SWS fleet.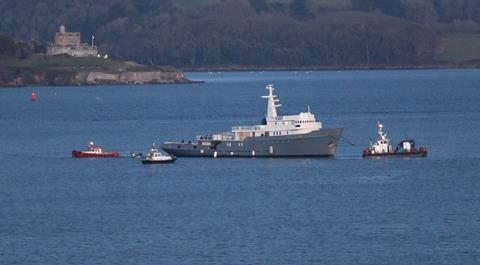 The boat is frequently called out for local towage work, including movements of luxury superyachts in and out of the Pendennis shipyard. One such operation was docking the ex-ocean going tug Clyde, now converted to the luxury expedition yacht Seawolf, which had been delivered from Holland by the Dutch Pearl.
After two years in service, the rebuilt Doosan 400 hp engines originally fitted were replaced like-for-like with new units along with a new pair of gensets, and the boat is due to be fitted with an A-frame and plough for another upcoming commission.
Going forward there are several long-term projects in the planning and an upcoming commission that will take Obervargh deep inland up the non-tidal Thames for yet another CMS vibrocore job. For this versatile workhorse, variety is its bread and butter.