Norway-based Corvus Energy's energy storage system has been installed in the M/V Green Diamond in Houston, US in what is the first diesel-electric inland towboat in the country.
The vessel is owned and operated by Kirby Inland Marine, a subsidiary of the Kirby Corporation.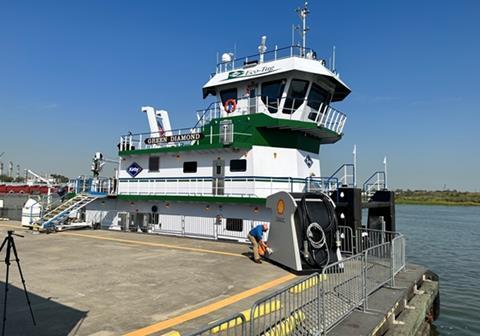 The Kirby Inland Marine MV Green Diamond
The Corvus Orca 1,243kWh battery will work in tandem with diesel and when shore charging power is not available, will switch to diesel but still save 27% of fuel, Corvus claims.
"With shore charging, fuel use will be reduced by almost 80%, resulting in an 88-95% reduction in emissions of NOx, CO and HC," it says. "Engine run time is estimated to be reduced between 93-98%, resulting in significantly decreased maintenance costs."
"Corvus, together with our partners, is pleased to be able to provide proven technology to help solve the technical challenges of hybrid vessel propulsion and shore-side charging to accelerate maritime decarbonisation," said Ole Jacob Irgens, Corvus Energy – executive vice president. "Inland and harbour tugs are ideal candidates for electrification with batteries because their routes are shorter, in proximity to the shore, and have limited power demands. We're seeing significant interest from tug owner/operators, designers, and builders right now."
"Kirby is excited to be the first to market with a plug-in hybrid towing vessel," said Christian O'Neil, president of Kirby Inland Marine. "Barge transportation is already the cleanest and greenest form of surface transportation, and we are working to make it cleaner and greener."