The steel-cutting ceremony of a new construction service operation vessel (CSOV) for Olympic was held at hull yard Crist in Poland in November.
The vessel is the first of two offshore wind newbuilds being built by Ulstein Verft. Both are planned for delivery in 2024.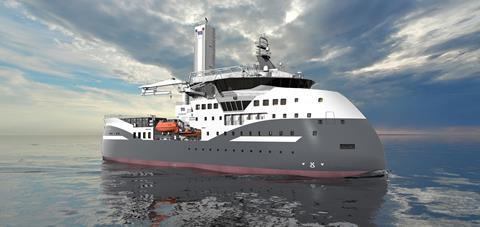 The vessels are based on the SX222 CSOV design from Ulstein Design & Solutions. They are among the first vessels to implement the TWIN X-STERN, a ship with two sterns and main propeller units in each end to increase flexibility and operability.
When meeting the Ulstein employees after signing of the newbuild contract, Olympic's chief executive Stig Remøy said that renewable energy was the future, although the dependence on fossil fuels would continue for some decades.
"The development of vessels has been formidable, looking back at our first vessels, which at the time were at the forefront of fuel efficiency, and now these CSOV vessels, the reduction in fuel consumption is impressive," he said.
"The offshore wind market is rapidly developing, and the newbuilds will set a standard for a new generation of offshore wind vessels – increasing the operational window while reducing the emissions."
He added that Ulstein Verft had been chosen because of its reputation for quality and on-time delivery.
"It is important to work closely together to achieve results, and this project was made possible because the ship owner, the yard and the suppliers teamed up," agreed Kolbjørn Moldskred, sales manager newbuilds at Ulstein Verft.