Damen and Thales have been signed up to build four new Anti-Submarine Warfare Frigates for the Dutch and Belgian navies.
The agreement was signed with the Dutch Ministry of Defence on Thursday June 29.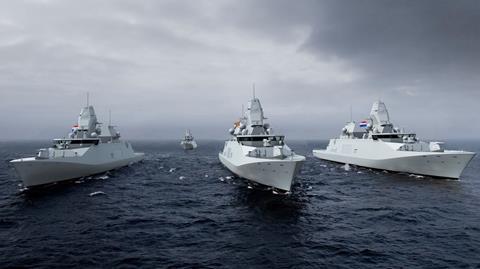 The frigates will have hybrid diesel-electric propulsion, which means they can sail very quietly to minimise the chance of detection by submarines.
With a length of 145 metres, and a beam of 18, they will have a draught of 5.5 metres at a displacement of 6,400 tonnes. They will be equipped with an Under Water Warfare Suite, an Above Water Warfare System and underwater decoys and will have room for a 117-strong crew and capacity for additional personnel to sail with them.
The ASW vessels will replace Karel Doorman Class multi-purpose frigates and will be deployed for many different tasks, although the focus will be on anti-submarine defence, for which Thales will supply 'a comprehensive suite of sensors'. The firm will also provide the fire control systems for the vessels.
The hulls will be partially built at the company's Romanian shipyard before being completed at Vlissingen.
Dutch state secretary Christophe van der Maat said the agreement was a sign of cooperation between industry, armed forces and countries.
"In time, the result will be an innovative and powerful weapon system," he said. "This will benefit us as direct users, but also Europe and NATO."
"We are proud to be building these beautiful frigates and look forward to working with the many, mostly Dutch, partners and suppliers on this project," said Damen Shipyards Group CEO Arnout Damen.
"With these launching customer projects, we retain vital knowledge in our own country and thus maintain our place in the world's top tier of complex naval construction. More importantly, the crews of the Dutch and Belgian navies get state-of-the-art frigates to carry out their crucial tasks."