Damen Shipyards Group is forming a strategic partnership with Swedish investment company Lazarus Industriförvaltning as the Dutch shipbuilder progresses with its extensive order book in Sweden.
Damen already owns a shiprepair yard at Oskarshamn and is gearing up to manage a healthy order book of references including seven patrol vessels for the Swedish Coast Guard, four ice-breaking tugs for Försvarets Materielverk (eventually for the Swedish Navy) and ongoing work with Saab Kockums on replacements for Dutch submarines. The Coast Guard vessels will eventually be shipped to Damen's shipyard at Oskarshamn for installation and testing of the owner's deliveries.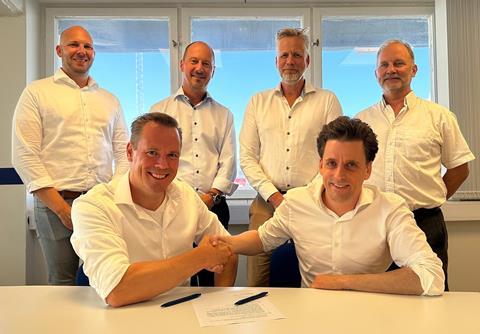 "Damen Shipyards Group can now serve our customers in Sweden with service hubs in both Oskarshamn and Stockholm," said Damen's Martin Verstraaten. "Those service hubs are supported by Damen Services from the Netherlands and our New-Build Sales organisation. In addition, we will also be supplying the Swedish market with our unique Damen Modular Barges from both locations. These are standard pontoons that you can assemble like Lego bricks to provide comprehensive floating solutions."
Lazarus Industriförvaltning, which has a portfolio of eight companies, collectively generating a turnover of more than SEK6 billion (€500 million) and employing more than 2,200 personnel is described as "enthusiastic" about the new partnership with one of Europe's premier shipyard groups, producing a diverse portfolio of vessels.