Damen unveiled its new electric Multi Cat at the recent Seawork exhibition and conference - Peter Barker has the lowdown on this new vessel and its potential.
Damen Shipyards has a new addition to its Multi Cat range with the introduction of the 1908 E Electric zero-emissions variant workboat. With the recent unveiling of this latest marque at the Seawork commercial marine exhibition at Southampton and release of its detailed specification,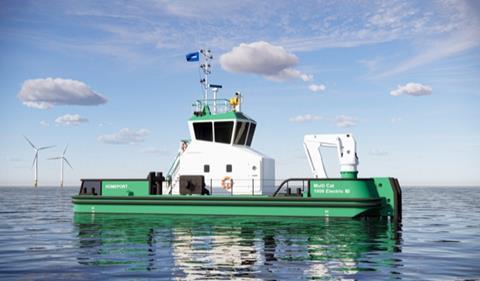 Damen is no stranger to the production of battery-powered vessels, but notable with this latest excursion into a growing trend is that many all-electric vessels operate on fixed routes, for example ferries where shoreside charging facilities can be provided to suit their operational envelope. Similarly, the reality now is that all-electric tugs can fit certain operating profiles as evidenced by the Damen-built all-electric tug Sparky for Auckland Ports, New Zealand.
Workboats, however, typically move from one location to another, where suitable shoreside charging points may not always be available. And this is where the Multi Cat 1908 E fills a gap – it can operate for up to 12 hours on a single charge. Damen also says that the battery life will last up to a decade following delivery.
The Dutch shipbuilder has an extensive customer support network offering tailored service packages, which in the case of electric vessels can include consultancy and advice, for example relating to the local electricity supply and infrastructure required.
It can also provide additional equipment, including onshore charging facilities along with training to familiarise the crew with operating an electric vessel.
The Multi Cat 1908 E is designed to operate in both shallow and deeper waters inland, in harbour and along the coast up to 20nm from shore, with potential roles typical of the standard Multi Cat range.
Devil in the detail
Looking in detail at specifications for the BV-classed vessel, approximate main dimensions include LOA 19.05m, beam overall 19.05m, beam moulded 8m, draught aft 1.85m, deck area (wooden) 35m2 and 37dwt. Tank capacities include fuel oil 15m3, fresh water 15m3 and technical water 2.5m3.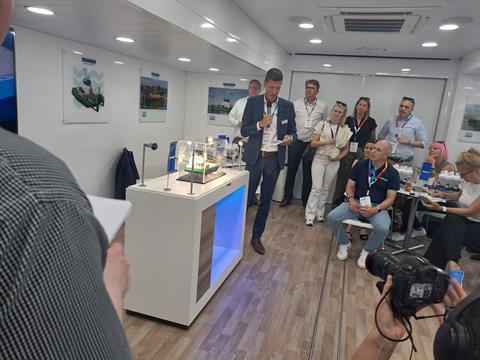 Performance figures indicate maximum bollard pull 7t and speed 7.5kn. A new addition to performance information now appearing with all-electric vessels relates to endurance and the Multi Cat 1908 E is listed as having an endurance of eight hours (or 100km) at 6.5kn (12km/hr).
It is in the machinery space that main differences over conventionally powered workboats are noticeable, with a complete absence of any fossil fuel burning combustion engines, either auxiliary or for harbour provision, although an option of such for extended range is included.
The battery pack is an EST Floattech Octopus High Energy 1,820kWh 700VDC arrangement. Two shore connections are listed, one 200ekW 400VAC with power lock connection sockets along with one 63A 400VAC connection. An electro-hydraulic powerpack with two 30ekW 400VAC pump units is also included. The electrical cooling system comprises three UV-C coolers with UV light anti-growth protection and secondary systems include two Azcue bilge/transfer pumps and one Libellula sewage pump.
Propulsion comprises two Veth VL200-si thrusters with fixed-pitch propellers in 900mm diameter VOB50 nozzles. 'Engine' power is listed as 2x 265ekW at 1,500rpm with 2.57:1 reduction gear.
The specification returns to more familiar ground with deck layout details. A DMT 100-E16K2 anchor winch handles two HHP 180kg anchors and 110m of 16mm stud link chain. An HS Marine AKC100 HE3 deck crane rated at 5.81tons at 11.89m is included, with an optional 5t pull crane winch with 40m of wire on the drum.
Another DMT product is an AHW-H150kN anchor-handling winch, providing 15tons pull at 5m/min and a BHL of 20tons. A 0.86m diameter, 2.5m long bow roller is included with an optional 150kN manual release towing hook.
The general arrangement indicates the standard Multi Cat layout with deckhouse on the port side, bridge at the upper level and below at main deck level a day-room, pantry and sanitary space with workshop/deck store forward.
Below main deck, again the layout is understandably different, the main space being the battery room, which is to starboard of the longitudinal centre-line with an auxiliary room aft between the battery room and thrusters. Beneath the portside deckhouse is a dry store/laundry, forward of which is air-conditioned accommodation for four persons.