Edda Wind has launched a Chartwell-designed vessel to transport crew to the Dogger Bank Wind Farm, which is set to be the largest offshore wind farm in the world.
Norway's service operation vessel (SOV) provider and operator Edda Wind has launched a daughter craft CTV.
Boreas Worker was built by Alicat Workboats on behalf of shipbuilders Astilleros Gondan, before entering service for Edda Wind in the commissioning and construction of the offshore wind farm in the North Sea off the northeast of England.
"The 12-metre CTV, which will work in conjunction with Edda Wind's fleet of hydrogen-ready commissioning service operation vessels on site, is the first of a new catamaran Daughter Craft design to be commissioned," said the company.
"The Chartwell Daughter Craft responds to the need in the offshore wind support market for low-emissions, cost-effective vessels, with the catamaran's optimised hull form offering efficient fuel use as well as stability and manoeuvrability in choppy waters."
With a crew personnel capacity of 12, Boreas Worker can be deployed from other CSOVs and 'floatels' during extended offshore stays.
Dogger Bank is a joint venture between SSE Renewables, Equinor and Vårgrønn, and is being installed in three phases to eventually generate in total 3.6GW of electricity - enough for six million households.
"Daughter craft workboats give more flexibility to our offshore wind operations in addition to the CSOV — and we need to ensure that we set the same standards of technical availability, efficiency, and performance across every vessel in our fleet," said Edda Wind CEO Kenneth Walland.
A few Dogger Bank facts: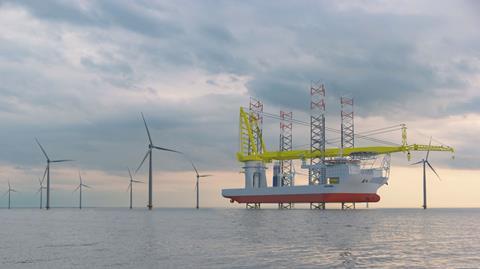 Dogger Bank Wind Farm is in the North Sea, with each phase more than 130km from the Yorkshire Coast. 
Onshore construction began in 2020 and is currently under way for Dogger Bank A and Dogger Bank B, while offshore construction on Dogger Bank A began in Spring 2022. First power is expected in Summer 2023 and Summer 2024 for Dogger Bank A and B, respectively, with commercial operations to follow around six months later.  
Onshore cable installation civils works for Dogger Bank C started in Q1 2022, with construction of the onshore converter station to commence later this year Offshore export cable installation will commence in Q1 2024 with offshore platform installation to commence in Q2 2024. 
Foundation installation on Dogger Bank C will commence in Q3 2024 while turbine installation will commence in Q2 2025. First power is anticipated in Q3 2025 and full power in Q1 2026.  
470 jobs are expected to be recruited by GE Renewable Energy across the North East of England in support of the delivery and operation of all three phases of the project. These will be made up of around 300 skilled roles for turbine installation and commissioning activities and 170 servicing roles at Port of Tyne under GE's five-year Service and Warranty Agreements for Dogger Bank phases A, B and C once operational.  
Dogger Bank A and B has confirmed GE's Haliade-X 13MW as the turbine powering the first two phases of the project. As the first order for the Haliade-X 13MW, installation at Dogger Bank A will be the first time the turbine is installed in the world. 
Installation of GE's up-scaled Haliade-X 14MW turbine at Dogger Bank C will be the first time the 14MW turbine is installed in the world.  
One rotation of the Haliade-X turbine blades can power one UK home for more than two days. 
Dogger Bank will be the first High Voltage Direct Current (HVDC) connected wind farm in the UK due to its distance from shore, introducing new transmission systems to the UK and paving the way for other large offshore wind farms.