Artemis Technologies has been awarded €2.7 million to demonstrate its efoiling propulsion technology on a crew transfer vessel and daughter craft.
The £2.3 million (€2.7 million) has been awarded as part of the UK Government's Clean Maritime Demonstration Competition Round 3 scheme, funded by the Department for Transport and delivered through Innovate UK.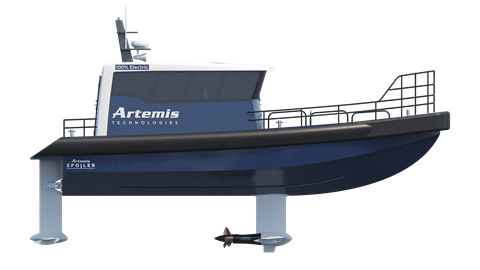 The EF-12 CTV will be demonstrated at the Barrow wind farm owned by Ørsted in the East Irish Sea, one of the first offshore wind farms in the UK and made up of 30 wind turbines with a 90MW generation capacity.
Artemis Technologies says the demonstration will be further proof of its propulsion technology, which it has already launched with Pioneer of Belfast, an 11.5m workboat, and which it will also have on show at Seawork this week.
"The next step is to transition this into an operational CTV pilot scheme, where offshore wind farm operators can experience first-hand the improved sea keeping as well as economic and environmental benefits of our vessels in comparison to current designs," says the company.
"We are confident that we have the transformative technology that will lead to greener CTV operations and ultimately the decarbonisation of high-speed maritime transport. The support from the Clean Maritime Demonstration Competition will now allow us to showcase that to decision makers on a global scale."
Artemis Technologies says its efoiling fits the market-wide requirement for technicians to be safely transited in up to 1.5m waves.