Western Baltic Engineering (WBE) is unveiling two new models of its electric 'pusher' vessel series in a push to decarbonise the US's inland waterways network.
The vessels – known as the Electric Eel – are the latest editions to the Lithuanian ship designer's series, reportedly the first of its kind in the world. Known as EE20 and EE26 these new models are adapted from the original EE27 launched by WBE in August.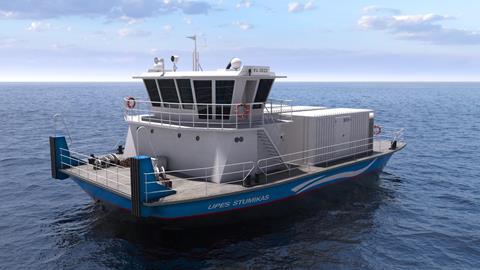 Various adaptations are being made to suit the waters in the US including a deeper draft and the ability to 'pull' as well as greater power and range capabilities.
"We have adapted our design in response to market demand in Europe following the EE27's launch in August this year," said WBE's senior sales manager, Chris Cowan.
"With greater capabilities the designs can operate in the deeper rivers around America, plus they fit with the US drive to switch to more electric propelled craft," he added.
Mr Cowan said the Electric Eel concept is capturing barge operators' imagination. "The EE20 and EE26 models can operate in deeper water, with a 2.5m and 2.6m draft respectively compared to 1.2m for the EE27," he said.
"In addition, both new vessels have greater power with four teu size battery containers being installed instead of two, enabling range capacity to be boosted from 300km to 375km while the EE26 can push or pull two 1,600 tonne barges and the EE20 can push 2,500 tonnes compared with 2,000 tonnes on the EE27."
The EE26 is the most radical departure in the series yet as it will offer a 'pull' as well as 'push' function to manoeuvre non-propelled barges. All three designs use a wind turbine to generate 5kW of additional electricity for onboard facilities and, as a result of the recent innovations, all models will now carry a methanol back-up generator.