Strategic Marine has won a four-vessel order for its Gen3 Fast Crew Boat with new client, Surya Nautika.
This latest order will see the 40 metre FCBs, designed in collaboration with Southerly Designs of Australia, delivered to the Malaysian operator from early next year onwards. It is the third order for these vessels from operators in Malaysia.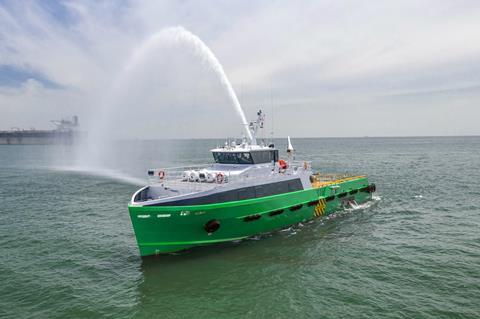 Surya Nautika provides marine transportation and offshore support services for the Malaysian offshore oil and gas industry, with prominent clients which include Petronas, Shell and ExxonMobil. The company currently owns and operates a fleet of seven crew boats with ambitions to be one of the largest crewboat operators in Malaysia.
Strategic Marine general manager, Commercial, Wayne Poh said, "We are thankful and humbled by the confidence from the Surya Nautika team for this opportunity to support their fleet expansion plan and look forward to delivering these vessels in accordance with their expectations."
The new vessel has three Caterpillar C32 engines driving fixed pitch propellors, a tunnel thruster at the bow and a remote-controlled water monitor with a capacity of 1200m³/hr.
With a saloon capable of accommodating 80 seated passengers, the vessel has 120m² of clear area on its aft deck with deck strength of 2t/m². The vessel cargo fuel capacity is 70m³ and cargo freshwater capacity is 30m³ allowing for extended operations.