Belfast shipbuilder Harland & Wolff has won a contract to repair a heavy-lift vessel that is the first of its kind to be drydocked at the shipyard.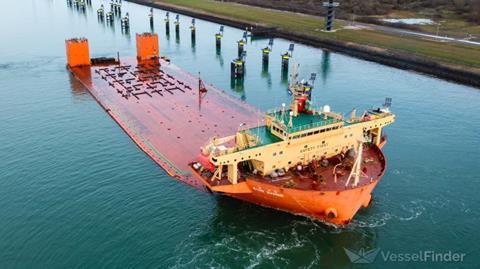 The Sun Shine is a heavy-lift vessel owned by the Korean company Pan Ocean Group, and H&W says the contract value is worth about £800,000 (€930,000) and will take about three weeks.
Seal changes, steel works and painting are among the works required on the 17,825t vessel, which is 174m x 40m and was built in 2008.
She is a semi-submersible, self-propelled heavy-lift vessel.
Group CEO John Wood said he expected the Belfast yard to be busy all summer, and in fact on July 31 the company said it had been issued a Letter of Intent for a mid-life upgrade and drydocking of a 'large vessel' for which it gave no further details.
"We are delighted to have signed this contract with Pan Ocean and we look forward to working on the Sun Shine and redelivering it to the client, on time and on budget," he said. "Our reputation and recognition for handling large complex vessels in Belfast is growing globally and this bodes well for a number of similar outstanding bids that we have made."