Singaporean boat builder Strategic Marine has received its first order from HST Marine for four hybrid CTVs.
The four vessels are Strategic Marine's StratCat 27s, which was designed by BMT and first launched in May 2021.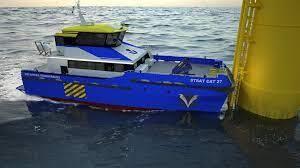 The 27-metre, 26 knot top speed vessels have a hull form that maximises waterline length and reduces emissions, Strategic Marine says, adding that a recent collaboration with Sea Forrest Power Solutions and Danfoss Power Solutions has built on the design with a retrofittable hybrid power option of installation upon delivery rather than beforehand.
"The parallel hybrid system enables a reduction in main engine hours and maintenance costs, significant reduction in vessel noise and vibration and, depending on the vessel's operational profile and charging facilities, can significantly cut the vessel's operational carbon footprint," says Strategic Marine.
"Cabin design has been optimised for improved comfort and workflow, with ample storage space, comfortable sleeping areas and business class seating for 24 offshore service/industrial personnel and three crew members The vessel's bridge deck layout has been enhanced to give improved visibility from the helm and an ergonomic layout to increase comfort for the bridge crew."
Just last week HST Marine held a naming ceremony for HST Frances, a sister hybrid CTV to HST Ella, which also has a parallel hybrid system. HST Frances was designed by Chartwell Marine and built by Diverse Marine in the UK.