Hybrid crew transfer vessel HST Frances was yesterday officially named at St Katharine Docks in London.
A sister vessel to HST Ella, which was launched in 2021, the 25m x 9m vessel is a multi-level aluminium catamaran that has been designed for high-speed transfers of up to 24 personnel specifically for offshore wind farms. She has a top speed of 28 knots and a cruising speed of 25, powered by diesel and electric propulsion.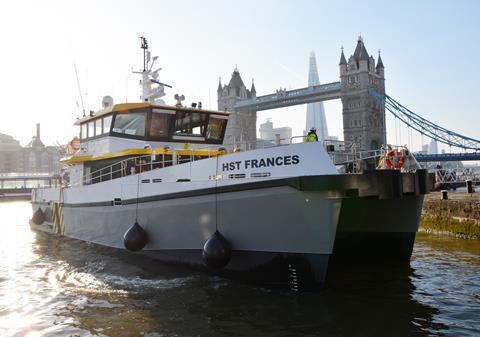 "She has a parallel hybrid system that enables a reduction in main engine hours and maintenance costs, significant reduction in vessel noise and vibration and, depending on the vessel's operational profile and charging facilities, significantly cuts the vessel's operational carbon footprint," said Claire Frew at SKD Marina, where HST Frances was named.
Designed by Chartwell Marine and built by Diverse Marine on the Isle of Wight, HST Frances was commissioned by HST Marine, based in Wales and a subsidiary of Purus Wind, which is itself part of the energy, transport and infrastructure integrator Purus Marine.
HST Marine charters and manages vessels throughout Europe for the construction and operation of offshore wind farms.
"As wind power becomes an integral part of the net zero energy mix, the growth of sustainable offshore wind operations relies on strengthening the efficiency and environmental performance of their value chains," said Tom Nevin, HST Marine CEO and head, Purus Wind. "Meeting the rising demand for new, clean support vessels is part of the solution, and we are already taking a leading role on this."