The first vessel by a company that says its ferries could bring urban traffic back to inland waterways in a clean way has been launched in Norway.
Shuttle 0001 is the first Hyke Hydrolift Smart Ferry, and was launched at Frederikstad in southern Norway this week.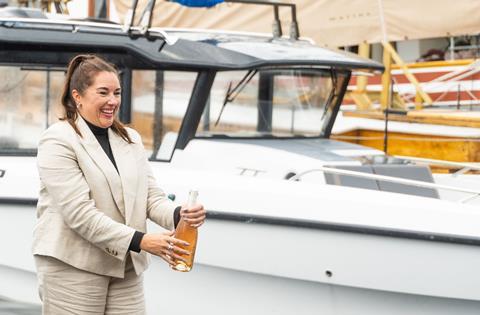 Norwegian partnership Hyke, which comprises design firms Eker Group and Hydrolift, launched the ferry with Frederikstad mayor Siri Martinsen, godmother Bjørn Utgård and Bård Eker.
"We wanted to introduce these ferries with a focus on being energy effective, with a new design, not like old traditional ferries," says chief technical officer Jason McFarlane. "To have a business case for that you need to be energy effective from the ground up, keeping the weight down. We will also be reducing costs by reducing manpower, but that's a transition over time."
The 15m x 5.7m ferries weigh just 10 tonnes and use sensor technology that collects data and sends the information to the captain, such as object detection, to help him or her operate more safely as well as giving decision support, says McFarlane.
Because they are small they are flexible so that an entire fleet could do the rush hour then in the middle of the day be used for other applications, such as school trips.
"They enable people to take a short cut across the city by taking their bike on to get to the other side," he says. "People can get in and out of the city without congesting the roads, and the quayside and water infrastructure is already there, so it's more cost effective than putting in these other forms of transport.
"And with no diesel, there's no pollution and no noise if they're operated near residential areas."
In another win for the vessels, the Paris Olympic organisers have selected a Hyke vessel to transport athletes around Paris during the games next year.