Damen Shipyards has unveiled a compact tug to indicate how gradual changes in the vessels being assisted have influenced shiphandling tug design.
In times gone by, starting with the steam-powered variety, shiphandling tugs were large vessels in relation to their horsepower. Similarly, and before containerisation, general cargo vessels were of a modest size compared to today's giants.
New ports and terminals were built in response to the container revolution, but as the ships progressively increased in size, tugs assisting them to and from the berths have had less space to work in, and designers have had to come up with ways of dealing with increasingly powerful tugs that had to operate within a smaller hull.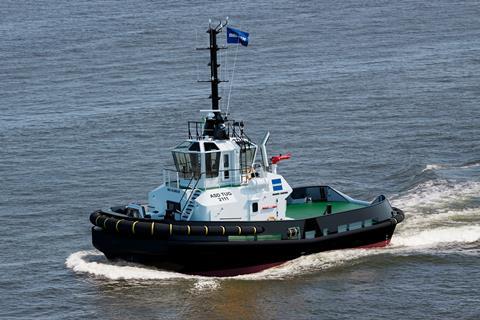 There appears to be no precise definition of what is now referred to as 'compact tug' regulations having an influence, but within Damen's portfolio, vessels between 20m and 25m in length offer impressive bollard pulls of up to 80t.
The latest addition to Damen's 'next generation' family is its compact ASD Tug 2111, which provides a bollard pull of 50 tonnes on a hull of 21m length and 11m beam. It joins the larger ASD Tug 2312 with a bollard pull of 80t.
Safety concerns
Shiphandling towage has always been potentially hazardous and Damen's latest design features "numerous safety features" in common with other vessels in the Dutch shipbuilder's portfolio.
The fine lines of earlier cargo ships have given way to full-bodied hulls with overhanging shears, particularly at the bow, where tugs have to make close approaches when establishing the towing connection. The ASD Tug 2111 features ample tumblehome, enabling it to safely approach an assisted vessel. A high freeboard also keeps water on deck to an absolute minimum.
Control of modern ship-assist tugs is typically carried out from a single seat positioned between parallel control consoles, where previously tug skippers would roam around a spacious wheelhouse and bridge wings observing the scene. Visibility from this partially fixed position is therefore vital and the ASD Tug 2111 provides a 360o view from the deckhouse over the surrounding waters and decks both forward and aft.
Another safety feature involves making the deck spacious and clutter free, and of relevance here is the towing winch's location. MJ recently made special mention of delivery of Fairplay-93, a Damen ASD Tug 2312 whose towing winch is in the deckhouse beneath the wheelhouse, thus is able to provide the towing connection over the bow or stern, and the ASD Tug 2111 includes this feature.
New features and low maintenance
Low maintenance is described as "in the ASD Tug 2111's DNA". This includes a closed loop keel cooling system, which reduces the amount of on-board sea water systems to an absolute minimum, lowering the amount of erosion-related maintenance.
A new electric power generation system has been incorporated into the compact tug range, able to generate electricity by drawing on the ample power of the main engines. A further efficiency boost is from the 2.4m diameter propellers, the large size offering increased thrust.
The design also features Damen's patented Twin Fin to ensure "outstanding" course keeping and predictable sailing behaviour during both free sailing and bow-to-bow operations. Necessary equipment to be remotely connected via Damen's Triton system is included and the tug is technically suitable for two-crew operation.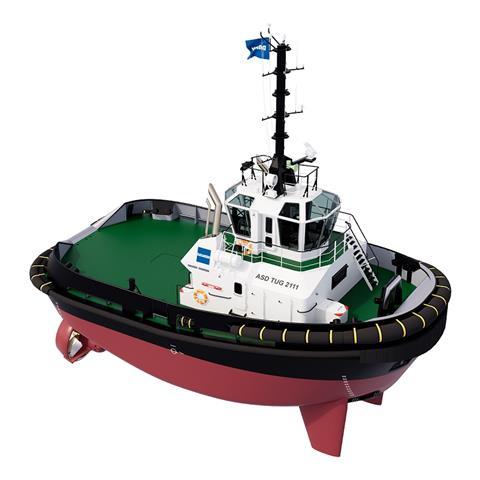 Damen's (preliminary concept) specification sheet indicates twin Caterpillar 3512C main engines produce 2,760kW (3,702bhp) in total, driving Kongsberg US165S thrusters.
While IMO Tier II compliant, Tier III certification is achievable with the optional fitting of the Damen Emission Reduction System. This exhaust gas aftertreatment system reduces NOx emissions before they reach the atmosphere and can be fitted in the existing exhaust silencers, making for an easy retrofit in the vessel's later life. Damen says it is working on full electric versions of its compact ASD tugs, following in the footsteps of the RSD-E Tug 2513.
Hinting at Damen's belief in the tug's success, product portfolio manager Siebe Cieraad said: "We are very pleased to announce this development in our compact tugs range and are looking forward to the next stages.
"In line with our construction of tugs in series for stock, we are already building six ASD Tugs 2111 at Damen Shipyards Changde. In this way, as of Q3 this year, we will be able to offer operators fast access to the latest in tug technology with all the increases in safety, sustainability, reliability and efficiency this implies."