Kongsberg Maritime has secured a contract to provide the design and equipment package for two powerful salvage tugs for the Suez Canal Authority (SCA).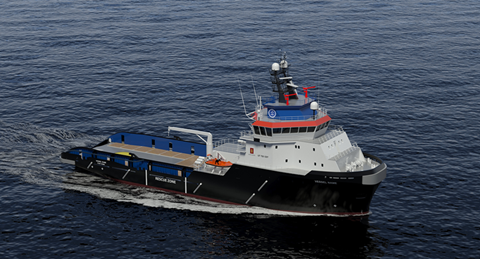 Demonstrating that a proven ship design can attract interest long after its introduction, SCA has chosen Kongsberg's UT722, an anchor-handling tug supply vessel (AHTS) first developed by Ulstein 30 years ago and becoming a standard workhorse in the offshore O&G sector, particularly in the hostile environment of the North Sea.
The duo, CDT variants, will be built by Alexandria Shipyard, which bid successfully for the contract in cooperation with Kongsberg after a tendering process described by the Norwegian technology giant as "going for a long time", adding that a large number of designers, suppliers and shipyards were involved in the international competition. Kongsberg will provide technical support including vessel design, main equipment deliveries, maintenance systems and crew training for the vessels, due for completion in 2025 and 2026.
Early details indicate a similarity to the original UT722 design, including a length of 71.6m, bollard pull of around 200t and the capability of operating independently for 35 days as long-range towing vessels in the Suez Canal and Mediterranean Sea.
The vessels' integrated Kongsberg equipment package includes: Promas propulsion systems with "twin-in-single-out" reduction gears; bow and stern thrusters; propulsion, joystick, integrated bridge and power electric systems including switchboards; dynamic positioning; passive stabilisation systems; deck machinery and K-Fleet maintenance software systems.
That such an important order for a high-spec salvage tug has revisited an AHTS design with a proven history working in demanding locations indicates the importance SCA places on maintaining the canal's integrity, an artery with around 70 vessel transits daily, responsible for about 12% of global trade by volume.
It continues SCA's steady expansion of towage provision before and following the much publicised grounding of the container ship Ever Given in March 2021. At just over 20,000teu capacity, Ever Given is by no measure a small vessel but it will be in the SCA's minds that there are now more than 120 such vessels with a greater capacity either in service or in build.
"The equipment and systems we are providing will ensure these tugs have trustworthy and precise handling and control, as well as the muscle needed to keep the Suez Canal open," said Jørn Heltne, Kongsberg Maritime Vice President for Sales and Contracts.