First Nation Canadians have formed ties with Dutch towage and maritime giant Kotug.
Kotug Canada and Sc'ianew First Nation have formed a partnership to foster a closer relationship and provide local jobs as part of the provision and operation of two escort tugs and an oil spill response vessel for the Trans Mountain Expansion Project (TMEP).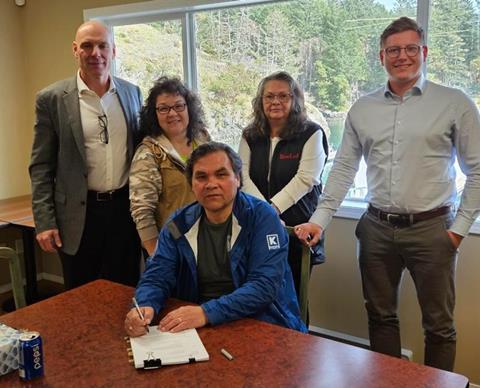 The partnership is an example of Dutch expertise in towing and related maritime sectors that has been exported globally for generations, and in fact some companies can be more active collectively beyond the borders of their domicile country than within.
When operating overseas, local involvement is a key factor so when, for example, a tug operator provides towage provision, a local subsidiary may be established to develop local crews and staff as part of the venture.
Making this happen is a two-way affair. As well as passing on their skills and experience to the local community, the service provider will need to understand the community's own requirements, local culture and traditions. This aspect will be a natural consequence of the Mutual Benefits Agreement (MBA) between Kotug Canada Inc and Sc'ianew First Nation.
Described as a "unique and meaningful partnership", the MBA is a long-term project for the TMEP and in basic terms encompasses provision and operation of an oil spill response vessel and two escort tugs to support the TMEP in close cooperation with the Sc'ianew.
Canada's only oil pipeline to the west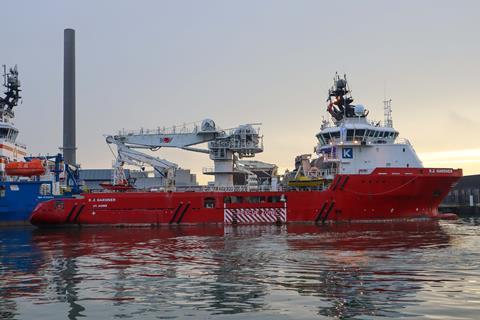 Trans Mountain Corporation operates Canada's only pipeline system transporting oil products to the West Coast. Around 300,000 bpd (barrels per day) of petroleum products are delivered through 1,150km of pipeline in Alberta and British Columbia, and 111km of pipeline in Washington state.
The TMEP will provide increased capacity, including around 992km of new pipeline (delivering an additional 590,000 bpd) along with new, modified facilities, including pump stations and terminals along with a new dock complex at the Westridge Marine Terminal in Burnaby, British Columbia.
Kotug has an extensive global presence and is a good choice to provide the marine support element of the project. In December 2021 a partnership between Rotterdam-based Kotug and Canada's Horizon Maritime Inc was awarded a long-term agreement with Trans Mountain to provide escort towage to tankers loading at Westridge.
Under a separate agreement between Kotug Canada and Western Canada Marine Response Corporation, the OSV K.J. Gardner has been equipped for 24/7 oil response services.
The Havyard 842-design, 2009-built vessel is typical of the anchor-handling tug supply vessels operating in the offshore oil and gas industry. Previous industry names associated with the 208tbp vessel include Simon Mokster Shipping, Stril Offshore and Siem Offshore. Secunda Canada LP was listed as operator and technical manager from 2019, with Kotug Chartering BV and Horizon Maritime Services Ltd becoming owner and operator in 2021.
Details of the two escort tugs that will be at the centre of the operation are not yet available.
Respect for local traditions
The MBA commits Kotug Canada to respecting Sc'ianew culture, traditions and historical connections with the Nation's territorial waters. Also included is related training and development of Sc'ianew community members to ensure they gain the necessary experience and knowledge in advanced safe tug operations and marine response.
In preparation for the project, Kotug has worked with the Beecher Bay community to create new career opportunities and train Sc'ianew marine cadets on Kotug Canada and parent company vessels to provide indigenous cadets with the mandatory experience and knowledge required. As part of the cadets' learning experience, they travelled to Europe to train on Horizon Maritime's large Vard 2 12-design AHTS Horizon Arctic along with K.J. Gardner in the North Sea, an unforgiving region that will provide valuable experience for operating such vessels in their own region.
A second aspect of the MBA involves installation and operation of a new floating dock facility at Cheanuh Bay Marina in Beecher Bay, British Columbia. The facility consists of an existing barge that will be refitted and transformed to provide a breakwater and berthing facility for the oil spill response vessel and accompanying two escort tugs.
Major milestone
Kotug Canada says the signing of the MBA represents "a major milestone" in its partnership with the Sc'ianew First Nation on the southern tip of Vancouver Island, strategically located along the Trans Mountain shipping lanes. Using Beecher Bay as Kotug Canada's home base will allow for faster response times in case of emergencies. An additional benefit is where the barge itself supports further enhancement of the Cheanuh Marina's commercial activities in Beecher Bay within Sc'ianew Territory.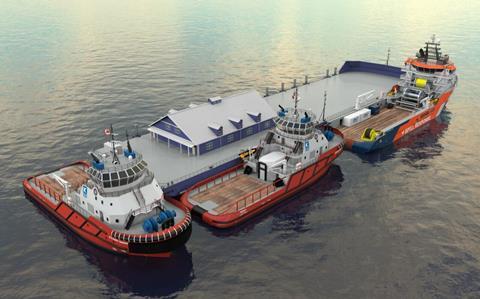 Protecting the environment via enhanced safety for shipping from provision of high-specification escort tugs is a particular area of Kotug's expertise, and the capability of responding to oil spills if and when they happen are at the heart of TMEP and Kotug's mission.
The desire to protect the environment and delicate marine life includes coating all of Kotug Canada's vessels with a "revolutionary" non-toxic hull coating developed in Canada by Graphite Innovation & Technologies. The coating reduces underwater noise and compliments Kotug's strict policies to reduce any impact on the environment.
The venture will allow Kotug staff in Canada to expand their own local knowledge and appreciate the value of local content.
Steve Widmeyer, Kotug Canada's director, said: "At Kotug Canada, we know that reconciliation is an ongoing process and that our work is to continue to learn and implement new ways of thinking and doing business.
"This partnership advances local career opportunities for indigenous seafarers. Most importantly, it will give our crews a unique opportunity to learn traditional knowledge and operate with respect and appreciation for the natural habitat of British Columbia's coastal environment. We value the Sc'ianew First Nation's important role as ocean protection advocates."
For the local community, Kotug's expertise will serve their own ambitions and efforts to operate a safe and sustainable operation.
"We are very proud to take this next step in strengthening our partnership with Kotug Canada," said Chief Russ Chipps, Sc'ianew (Beecher Bay). "The MBA allows Sc'ianew First Nation to meet a broad range of objectives in relation to the changing reality of the west coast marine economy."