Full of beans - the world's first electric pusher tug has been deployed to transport cocoa beans along Dutch inland waterways.
Towage provider Kotug has struck a partnership with the American food giant Cargill to deploy Kotug's 'E-pusher' and 'E-barges', which it is touting as being the first fully electric pusher boats and barges in the world for inland shipping.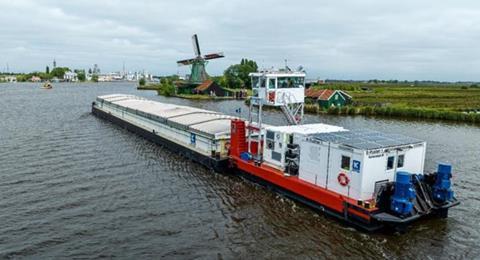 The vessels will transport cocoa beans from the Port of Amsterdam to Cargill's coca factory in Zaanam, the Netherlands.
The first one, E-Pusher 1, has been christened and marks the official start of operations for Cargill. Kotug will operate the vessel and the E-barges.
The pusher tug eliminates CO2, sulphur oxides, nitrogen oxides and particulate matter, Kotug says, and will be powered by electricity generated by the wind farm Windpark Hanze, which Cargill operates with Vattenfall.
"By introducing the world's first zero emission vessel of this set-up, we aim to inspire other shipping companies, governments, and stakeholders to embrace clean energy solutions and make significant strides towards achieving the global climate goals for the next generation," said Ard-Jan Kooren, President & CEO of KOTUG International.