Italy's famous tourist lake, Lake Garda, is aiming to put in place a fleet of all-electric RIBs at the north end of the waterway by 2024 – and on a lake where motorised vessels have been banned for decades, it could make a huge difference to activities held there.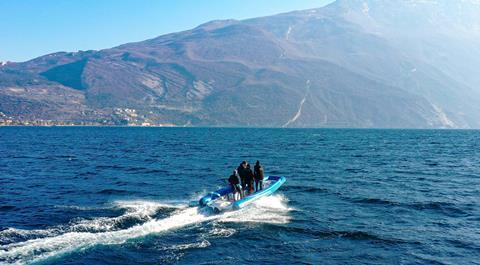 At a recent event organised by Negrinautica, a Milan-based water sports distributor, a consortium of stakeholders including tour operators, local mayors. community leaders and councillors for tourism were invited to a presentation by RS Electric Boats, which demonstrated its Pulse 63, a vessel reviewed by Maritime Journal last year.
"Negrinautica got everyone together to discuss their aims," said Alex Newton-Southon (CEO - Technical RS Marine Group). "And then we gave a presentation on the Pulse, what it stands for and what it can do. Then we took the stakeholders out to experience it. We've been asked to loan the area one for the summer. We will. This will then underpin their confidence that the Pulse 63 is reliable and it is what they think it is."
Newton-Southon believes the iniative to electrify vessels will eventually extend further down the lake, and will present opportunities for replacing boats that facilitate events on the water, such as police, rescue and sailing clubs.
"Motorised navigation has been prohibited in the waters of Garda Trentino since the 1980s and electric mobility is certainly a direction to take: the world of regattas itself is moving in this direction," says Pietro Negri, owner of Negrinautica.
"The electric transmission of the engine of the Pulse 63 guarantees instant acceleration, control sensitivity and hydrodynamic performance on the water. Its simplicity generates low noise, low vibration, low weight and minimum maintenance."