Jan De Nul's mammoth jack-up vessel Voltaire has arrived at Dogger Bank, which when completed will be the largest wind farm in the world.
Voltaire will install a total of 277 wind turbines in three construction phases of the wind farm, which when build should have a power generating capacity of 3.6GW. They are among the world's biggest turbines, with individual capacity of 13-14MW.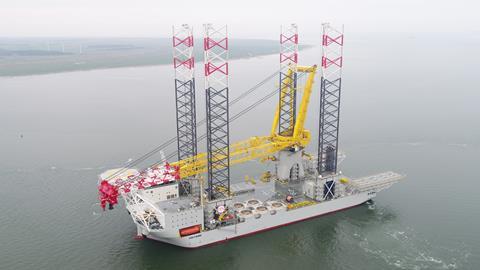 Built in 2022 at Cosco in China, Voltaire is 169.3 metres in length with a breadth of 60m. She has a cargo deck area of 7,000m2 and carries a Huisman crane with a lifting capacity of 3,200 tonnes to a height above deck of 162.5 metres.
She can operate in a maximum water depth of 80 metres.
Voltaire's installation work will begin next month, with the first GE Haliade-X offshore wind turbine.
She is being lauded as an Ultra-Low Emissions vessel, which has been achieved by fitting her with an advanced exhaust filtering system by means of a Selective Catalytic Reduction system and a Diesel Particulate Filter. It means that Voltaire is the first sea-going installation vessel of her kind to have that certification, says Jan De Nul.
The three 1.2GW phases of Dogger Bank are being built under a joint venture of three parties, namely SSE Renewables (40%), Equinor (40%) and Vårgrønn (20%).
Once completed in 2026, it will be the world's largest offshore wind farm and is expected to have a life of 35 years. Total investment has been estimated at an eye-watering £9 billion (€10.5 billion).
"As offshore wind technology grows in scale and power, the industry needs stronger vessels that are capable of meeting these engineering challenges," said Olly Cass, Dogger Bank Wind Farm project director. "With its lifting capacity of more than 3,000 tonnes and ultra-low emissions design, we can't wait to see this next generation vessel take on the challenge of installing some of the world's largest and most powerful turbines, as we head towards first power for Dogger Bank A this summer."