Norsepower will install two rotor sails on what is believed to be the world's biggest short sea RoRo vessel, the MV Delphine, which transits between the UK, Ireland and Europe.
Operated by CLdN, the vessel has a cargo capacity of close to 8,000 lane meters, and Norsepower estimates that the two 35m x 5m tilting rotor sails will achieve a fuel and emission saving of between 7-10%.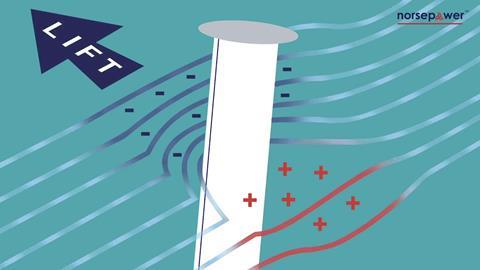 It is the seventh vessel so far to be fitted with Norsepower's rotor sails, and the third to include the tilting function.
They work by detecting when the wind is strong enough to deliver fuel and emission savings, at which point they start automatically. The technology is around ten times more efficient than a conventional sail because more lift is produced with a much smaller sail area, the company says.
Norsepower says its rotor sails can be retrofitted on existing ships as well as on new vessels. They are a modernised version of the Flettner rotor, a spinning cylinder that uses the Magnus effect to harness wind power to thrust a ship.
The optimal number and size of sails are based on the size, speed, and operating profile of the target vessel, so Norsepower makes a range of sizes to accommodate.
"Seeing the interest grow in our tilting Rotor Sail design demonstrates how the industry is looking for proven, flexible solutions to lower greenhouse gas emissions and reduce fuel costs across a range of vessel sizes and operations," said Norsepower CEO Tuomas Riski.
"With fuel becoming increasingly expensive, making savings will also have a huge impact on commercial success. Working with CLdN and its ambitious team is an opportunity to demonstrate what our technology has to offer to continue strengthening the environmental and commercial performance of its fleet."
In November 2021, Norsepower signed an MoU with Kongsberg Maritime to facilitate the addition of wind propulsion to the Norwegian group's integrated power and propolsion systems.
The MoU allows for ship owners and shpyards to choose between fully integrated systems or standalone products.
"By teaming up with Norsepower, KM adds wind propulsion to its portfolio of strategies to facilitate greener operations, aided by its controllable pitch propeller solutions, which can easily manage the variable power delivered by Rotor Sail systems," said Kongsberg.