Macduff Ship Design has delivered a bespoke 24m aquaculture workboat to its new owner Bakkafrost Scotland.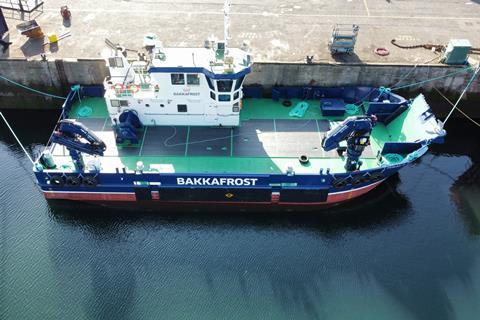 Turas A 'Bhradain was completed by Macduff Shipyards at its yard in Aberdeenshire and is the first of two near identical bespoke vessels being built by for the aquaculture business.
The vessel is designed as a multirole workboat with large open working deck with offset port casing for improved starboard side access and a large forward ramp.
This layout will allow for the vessel to complete a wide range of tasks from general cargo duties through to specific aquaculture services.
Bespoke offering
Turas a 'Bhradain is constructed entirely from steel to a hard-chine, landing craft, hull form. The design was a development of the Helen Rice and Geraldine Mary workboats, previously designed by Macduff Ship Design.
The workboat is equipped with an array of equipment to allow it to operate in a range of different roles. The main propulsion is provided by twin tier III compliant Doosan 4l 126 CAKH engines delivering 373 Kw @ 2000 rpm.
On deck there are two marine cranes to starboard both supplied by a HS Marine AK61 4E and AK30 HE3. The engines drive two 1500mm propellers supplied by Teignbridge propulsion.
These are fitted in nozzles to give excellent levels of bollard pull and there is also a stern thruster, both of which were supplied by Kort Propulsion, which when combined with the twin screw set up gives excellent low speed manoeuvrability for operations in and around the fish farm cages.
The hydraulic package also comprises three capstans all arranged to starboard, an anchor windlass, hydraulic rams for operation of the bow ramp and a tow winch situated on the centre line.
Due to the offset position of the casing, the winch can work both aft over a stern roller or forward over a narrow roller built into the bow ramp.
The vessel complements its extensive deck machinery package with an impressive cargo carrying capability for a vessel of this size, being able to carry, a maximum capacity of 125 tonnes of deck cargo and has deck fittings for three 20 foot ISO containers.
Turas a 'Bhradain was delivered following a year-long construction period which followed a detailed design process involving the owners and operational staff, the shipyard and Macduff Ship Design.
Initially the Turas a 'Bhradain will be operate across Bakkafrost Scotland's sites on the west coast and Hebrides. It will work alongside Bakkafrost Scotland's wellboats Ronja Star and Ronja Fisk, playing a key role in fish health by preparing the pens for the wellboats to carry out freshwater treatments.
The final touches were completed on the vessel in July 2023 followed by final trials and delivery.
Vessel particulars
Length OA: 24.0 metres
Breadth: 9.0m
Depth: 3.1m
Maximum draft: 2.25 m
Fuel Capacity: 14,000 litres
Fresh Water Capacity: 5,000 litres
Deck Cargo capacity: 125 tonnes
Two cranes: HS Marine AK 61 4E and AK30 HE3
Main engines: 2 x Doosan 4L 126 CAKH – 373 KW @ 2000 RPM Tier III