Macduff Ship Design has successfully delivered a new ASD tug/service vessel to Knowledge Marine & Engineering Works, its first ever design for an Indian owner.
Completed by Synergy Shipbuilders at its yard in Goa, the 21 metre River Pearl 10 is a multirole tug/service vessel destined for charter at Deendayal Port in Gujurat.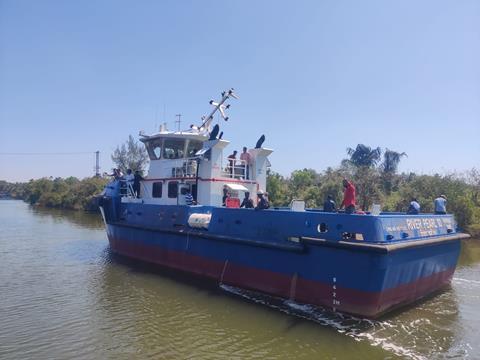 Initial trials have concluded successfully, demonstrating that the tug can exceed the contracted requirements of 10 knots and 10 tonne of bollard pull.
Made entirely from steel with a hard-chine hull form, River Pearl 10 has a large open working deck making it suitable for a range of operations including docking and undocking of vessels, marine services to anchored vessels including crew transfer and delivery of supplies.
The main propulsion is provided by twin Cummins KTA19 M3 engines delivering 500 hp at 1800 rpm through twin Hydromaster Z drive ASD units all supplied by Parikh Power.
On deck there is a main aft towing bollard fitted with tow hook. The vessel has 'D' fendering around the vessel and 'W' style fenders around the bow to assist with pushing operations. These are complemented by a further D fender positioned on the vertical bow.
The vessel can accommodate ten crew members.