Seacat Services has brought Mainstay Marine Solutions on board to build the 20th vessel in its fleet.
The fifth of type Chartwell Ambitious design, the latest 25.2m catamaran has an optimised aluminium hull and can transport up to 24 crew to and from offshore wind farms.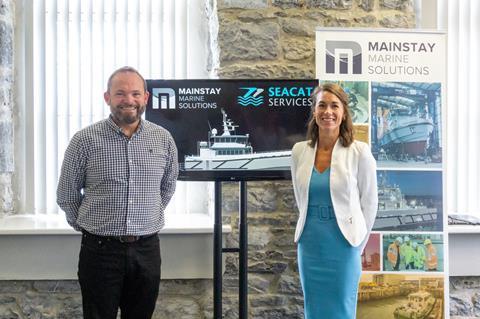 UK shipbuilding is under pressure, say the companies, with skill shortages, increased manufacturing costs and a lack of government support.
Despite these challenges, Seacat reports it is continuing to invest in UK newbuilds, with this latest order taking its total spending in this area to more than £65 million in the past decade.
Ian Baylis, founder of Seacat Services, said the company was delighted to be able to build its 20th boat in the UK, despite the challenges. "We remain dedicated to feeding back into our own supply chain, and making sure value is felt here, by our market," he said.
"It's exciting to be able to work with the experienced team at Mainstay, who have been proactive in matching our passion with their dedication, expertise, and world-class facilities."
The newbuild has a controllable pitch propeller from Kumera Helseth and MTU-2000 series engine — its emissions reduced by a Tier-3 solution from BOS Power — and is hybrid-ready.
"Working with Seacat is a great opportunity for us to build a vessel that will not only support the expansion of renewable energy, but provide a tangible domestic benefit through an operator who cares deeply about maintaining the viability and attractiveness of the UK industry," said Charlotte Wood, business development and sales manager at Mainstay Marine Solutions.
"The Chartwell Ambitious design is sleek and efficient, and with our skilled workforce and know-how, we're very well placed to deliver it."