News that Seattle-based Markey Machine has been selected to provide its hawser winches and capstans for Moran Towing's two new escort tugs turns the spotlight on components where there is no place for what can be considered the weakest link in the chain.
The vessels, built to Robert Allan Ltd RApport 2800 designs, are under construction at Master Boat Builders in Alabama. With bollard pulls of 80+ tonnes, enormous loads will potentially be put on the deck machinery so Markey's DEPCF-52 hawser winches (along with separate CEW-60 capstans) have been selected for the pair.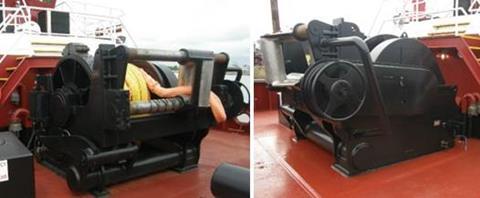 The new tugs will be among the most powerful of Moran's 95-vessel fleet. Technical details of their towing winches include brake holding capacity of 339 tons; line retrieval will be 378ft/minute and maximum winch line pull 15.4 tons at 73ft/minute. Also included are automatic level wind, stainless steel brake drums and NextGen controls, preventing over-speeding spikes on the motors.
One hazard faced by shiphandling tugs, including when operating in tethered escort mode, is where snatch loads are encountered such as in adverse sea conditions, which puts unexpected loads on the towline. A feature of these winches is a render/recovery system providing precise control of such loads accompanied by very high line-retrieval speeds.
The winches are "Class II' in Markey's range and include automatic tension line control for tethered operations, allowing operations though "day-long" escorts with the winch automatically adjusting towline scope to maintain preset line tension settings. The original design of the Class II winch was specifically for situations where the towing staple is located close to the winch.
Moran Towing refers to its long-standing relationship with Markey as "built on trust and ensuring optimal performance and safety for our fleet and personnel", and describes the order for the vessels as "a significant milestone" in its fleet enhancement programme, which brings the number of tugs under construction for the Connecticut-based owner from four to six.
Markey reports the deck machinery for the newbuilds will be delivered in 2024, saying the tugs will "bring more power to accommodate the larger, deeper draught vessel coming into ports along the US Gulf and East Coast".