The changing shape of tugs and workboats to take on multiple roles is becoming a feature of new designs.
A look at vessels reported recently as delivered or under construction demonstrates the popularity of tugs and workboats with multipurpose capabilities.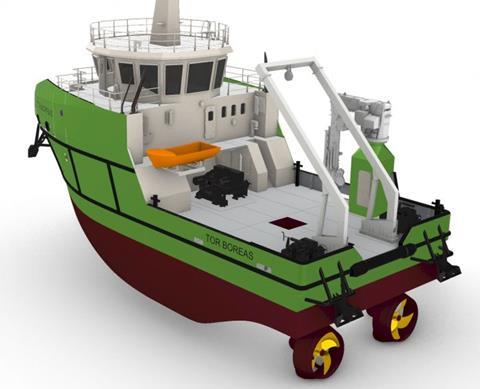 The line between pontoon-shaped work/utility boats and conventional tugs is increasingly blurred nowadays, the former often quite capable of coastal towing as well as traditional roles, for example dredging support, able to handle anchors and lift floating pipelines onto their deck for repair etc.
Seacontractors' extensive fleet is a mix of tugs and workboats and the Netherlands-based towage operator recently welcomed into its family Sea Eidum, its first Neptune Marine-built Eurocarrier 2611 workboat.
Capable of multiple roles, the vessel has a useful 33.9tbp on a draught of just 2.61m, with power derived from two Tier III compliant Caterpillar C32 main engines delivering 1,940kW in total to fixed-pitch propellers, with two gensets from Volvo.
Deck machinery includes two Heila cranes with Werkendam-based Tecnospirit supplying towing, anchor-handling and tugger winches. Traditional fendered push-bow, towing pins and bow and stern rollers serve the generous 145m2 free deckspace are included with accommodation provided for six persons.
Turning to tugs, but still with multipurpose capabilities in mind, Damen Shipyards Cape Town has delivered the Shoalbuster 3209 plough tug Mohoma to Transnet Ports Authority. The 45tbp, unrestricted sailing capability vessel can plough up to 25m depth, a requirement for Transnet's programme of expanding port capacities to accommodate larger vessels. Towing and pushing, along with buoy and anchor-handling, are among its additional capabilities.
A somewhat different profile of utility vessel/workboat is promised with a new vessel, built to a design from Macduff Ship Design Ltd and under construction at Tor Group's new facilities in Turkey.
Hybrid propulsion, DP, four-point mooring, hydraulic A-frame, moonpool and boulder-grappling from a 13t offshore crane are among the many features of the ASD-configured vessel powered by three MAN gensets supplying two 500kW e-motors, in turn driving Schottel SRP 210FP thrusters. We hope to return in more detail to what promises to be an interesting vessel due to enter service in UK waters in January 2024.
Finally, Delfzijl-based Royal Wagenborg offers a range of services in marine logistics, including towage, and has added the Robert Allan-designed, Uzmar Shipyard-built ASD 3280 tug Waterland to its fleet, to be based in Eemshaven. At 80tbp it is the largest tug in Wagenborg's tug fleet, which now comprises 10 vessels.