A UK consortium including shipbuilder Harland & Wolff is planning to introduce a zero-emissions tug and barge service to promote the UK's Marine Coastal Highway.
UK presence in the shipbuilding industry, including involvement in tug construction, has declined over time whereby shipyards and vessel designers in the Netherlands, Turkey and Canada are now among those who dominate this particular market.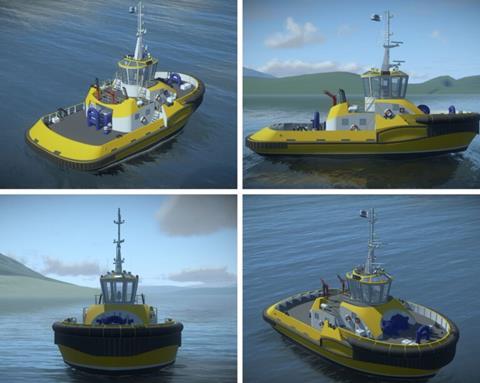 However, a consortium of Belfast-based shipbuilder Harland & Wolff (H&W), Scotland's Macduff Ship Design, Norway's Kongsberg Maritime and battery systems provider Echandia is about to enter the market with a zero-emissions harbour and coastal tug and a new class of "ultra-efficient" large barges.
The UK coastline is estimated to be almost 20,000 miles long, which should mean vast opportunities for taking freight off congested roads via the UK's Coastal Marine Highway.
H&W say moving large loads in this way would create more opportunities for shipbuilding as well as for the fabrication of structures across the entire country for offshore wind developments, helping spread work beyond the industry's existing focus on the central belt of Scotland and supporting the UK's National Shipbuilding Strategy.
Initially intended to move loads between H&W's yards, the empty barges could transport freight for other clients, the consortium believing similar vessels of smaller and larger designs and capabilities will be required in the coming decade. The technologies deployed are also scalable for the crew transfer and service operation vessel markets.
The tugs are expected to be ASD configuration powered by a series of modular battery banks, the initial two involving vessels of 25.5m length, 12m breadth, 4.85m draught and with a bollard pull of 50 tonnes. The aim is to deliver a zero-emissions vessel using electric propulsion for day-to-day operations, backed up by generators driven by biofuel for exceptional operations or when charging facilities are not available.
H&W will take the role of project leader and builder, with Macduff acting as designer and Kongsberg supplying the propulsion and vessel control systems. Echandia will bring its expertise in battery and electrical control systems to the project, the Swedish company already having an important reference in the field of battery-powered tugs in Sparky, the world's first full-size, fully electric shiphandling tug delivered by Damen Shipyards to Auckland Ports in 2022.