Kotug Canada Inc has ordered two high-spec escort tugs as part of its involvement in the Trans Mountain Expansion Project (TMEP) on Canada's west coast.
Over a period of time MJ has reported Dutch towage provider Kotug's involvement with enhancement of Trans Mountain's safety provisions surrounding its expansion of the only oil pipeline serving Canada's west coast.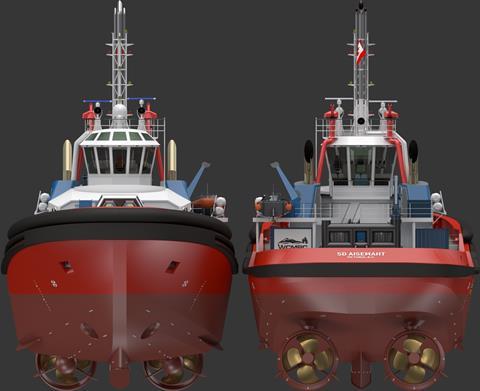 The long-term contract includes provision of enhanced escort towage services for tankers loading crude at Trans Mountain's Westridge Marine Terminal. Under a separate agreement between Kotug Canada and Western Canada Marine Response Corporation (WCMRC), the OSV K.J. Gardner provides 24/7 oil response services. Kotug Canada is a partnership between Kotug International BV and Canada's Horizon Maritime Services Ltd.
News was awaited, however, on the two escort tugs that will serve the contract and whether existing vessels would be used or newbuild tonnage sourced, and the announcement that two new vessels will be built by Sanmar Shipyards has revealed a 'revolutionary' duo of escort tugs that will be high-spec, high bollard pull dual-fuel (methanol and diesel) vessels. They will come from the drawing board of Canadian naval architect Robert Allan Ltd.
The vessels, which will replace the existing tugs selected for TMEP, are not compact tugs by any measure. The proposed newbuild vessels are RAsalvor 4400 DFM designs, main specifications including: LOA 43.8m, beam 15m, gross tonnage <1,000gt, bollard pull (approx) 115t, speed (approx) 15kn and fuel capacities (marine gas oil) 270m3, along with 205m3 of methanol; recovered oil capacity is 405m3. Accommodation is provided for up to 10 persons including cabins for WCMRC crew.
They will have a double drum escort-rated winch forward and a double drum heavy-duty towing winch aft, and all other related escort towage specifications are in accordance with Pacific Pilotage Authority Notice to Industry, dated 5 November 2019.
A notable feature of the pair, and one that will enhance the efficiency when free-running or at low load, is inclusion of Schottel's Sydrive azimuth thrusters, which enables just one engine to drive two thrusters. As with K.J. Gardner, the tugs will have a graphene paint applied to the hull to reduce biofouling and enhance the smoothness of the vessels, reducing underwater radiant noise.
Kotug says the design of the tugs will provide "significant environmental benefits to further reduce greenhouse gas emissions and underwater noise". They will be equipped for firefighting operations and include oil spill response capabilities.
The pair will certainly be kept busy with expansion of the Trans Mountain pipeline. Tanker traffic to Westridge Marine Terminal is expected to grow to approximately 34 vessels a month, the size of the tankers remaining the same, the largest being Aframax-size vessels. They will continue to use the well-established commercial shipping route between Vancouver Harbour and the Pacific Ocean through the Salish Sea.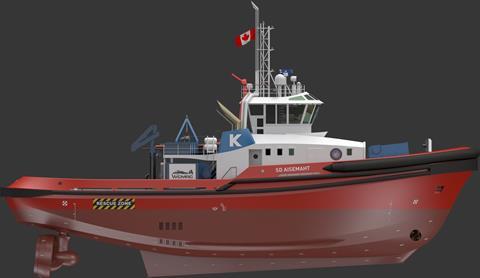 Tug escort for laden outbound tankers will be expanded to cover the entire tanker shipping route through the Strait of Georgia between Race Rocks and the Juliet Buoy at the western end, to Juan de Fuca Strait. The pilot disembarkation point will be extended with pilots trained to disembark by helicopter and finally enhanced situational awareness techniques will be applied, including the "tactical use of escort tugs along the shipping route".
The oil spill response enhancement element will see more that $150 million spending in WCMRC and the creation of more than 100 new jobs along with establishment of eight new response bases along BC's southern shipping lane, including two operating 24/7.
Trans Mountain has been loading vessels with oil at Westridge since 1956 without a single spill but with the existing pipeline which handles around 300,000 bpd of petroleum products seeing an additional 590,000 bpd with the expansion project, there was the natural requirement to enhance the risk controls in place.
Rather than just keeping pace with the new requirements Trans Mountain has, with its Marine Enhancements element of the project, ensured it is staying ahead of any potential safety issues that may arise. The engagement with experienced towage service and marine support providers such as Kotug and Horizon, along with the inclusion of three high-spec support vessels (two escort tugs and an oil spill response vessel), ensures that in Trans Mountain's words, once implemented they are "expected to raise the level of care and safety in the study area to well above globally-accepted shipping standards."